SPOTLIGHT ON STUDENT-DIRECTED THEATRE ONE-ACTS
        The house lights dimmed and a hushed silence fell on the crowd; the grand curtain opened, and the show began. The spotlights illuminated young actors, who began to weave deeply impactful stories with their voices and bodies. On February 11 and 12, 2022, people had the opportunity to watch four one-act shows; Our Place, Velvet, Stroke Static, Group Chat. Each were directed by Westfield students: Natalie Kattas, 11; Julia Manser, 12; Beverly D'Andrea, 12;  Sarah Fajer, 12; and Isabel Nemati, 12. 
        It is an opportunity that many students in the theatre department look forward to, either to express their creativity and leadership through directing, or the ability to gain acting experience and work in a peer-led, intimate environment and make connections.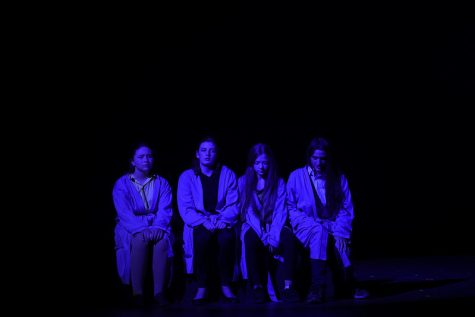 Fajer, director of Our Place (Westfield's Virginia High School Leagues[VHSL] show), said: "I love directing and it is something that I want to do in the future, so I really wanted to take the opportunity and direct the one acts this year. And being able to work with Isabel on it was amazing." 
       When asked about what to say to someone thinking about participating in the One-Acts, Fajer added, " Go for it. It might sound stressful [directing], but it is totally worth it. All the work put in will pay off and it is amazing to see your work in the end." 
       On the actor's side, Anna Kaplan, 11, (Group Chat, Velvet) said: "This experience [One-Acts] has changed me as an actress by helping me become more responsible for myself…I would participate in the One Act festival again. I looked forward to going to rehearsal after school. It kept me busy. And I really liked being around my cast mates."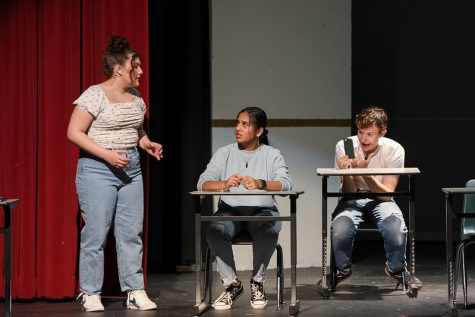 Zoe Brennan, 10, (Group Chat, Velvet) who has participated in the One-Acts for two years, stated, "It's truly a different experience than what you get with a typical show! My favorite aspect of the One-Acts is how the casts are able to bond much more easily than in a larger show. The One-Acts are typically less stressful than the bigger mainstages while still retaining the best aspects of theatre, and are great for both first-time actors and people who've been a part of the department for a long time."
       The One-Act festival is truly an event for students, by the students. It is a chance for them to showcase their inventiveness, gain a better understanding of theatre, or simply to make friends in the context of an exciting, short-term theater commitment.
Leave a Comment