TEACHER OF THE ISSUE: KYLE SIMMONS
      Avery Howard, 12,  runs down the field for a touchdown on the kick return, causing the crowd to erupt in cheers. As he runs to the side line, Coach Kyle Simmons gives him a smile that only he can cherish as a football player. Simmons has been a true monument for Westfield High School athletics for nine years as the head coach and, by all accounts, has had a huge impact on the football program.
Simmons stands for the national anthem before a football game. "He's a hard working man and shows a lot of tough love," remarked Howard. The player also noted that Simmons is considered a strict leader  but also one who displays humanity.
     Even though Simmons appears to be a natural at what he does, he believes that his upbringing and the obstacles he has overcome in recent years are what really shaped him to be who he is today as a coach and teacher. 
      Simmons, 51,  has been married for 19 years to his wife, Janet. His daughter Summer Simmons is a junior here at Westfield and plays volleyball for the school. He also has two step sons in their 30s. 
      Five years ago Simmons confronted the greatest challenge of his life after a medical appointment revealed a life-threatening illness. While undergoing a routine check-up in the spring of 2014,  the doctor noticed a lump on his throat. The doctor examined it and told Simmons that he needed further testing immediately. A fine needle biopsy confirmed the worst.
      At age 46, Simmons was diagnosed with throat cancer. Doctors determined the illness had originated from Human Papillomavirus infection (HPV)– the virus that teens all over the nation are now being vaccinated for. 
      After he received the diagnosis, he recalls driving home and being unable to hold back his tears. He was not sad that he had cancer, he said, but rather the fact that he would have to put his family through the same pain that he was feeling. He kept the information from his daughter  until he learned his chances of survival. 
      Doctors later came back with good news; there was an 80 to 90 percent chance that he would beat this cancer. The news brought great relief to him and his wife. He finally was able to tell his daughter about the diagnosis. He also recalls telling her, "Everything will be okay in the end." 
      After six weeks of radiation and several years of cancer rechecks, he is now four  months and one scan away from being officially released from medical supervision. Simmons will soon earn the status of full-fledged cancer survivor.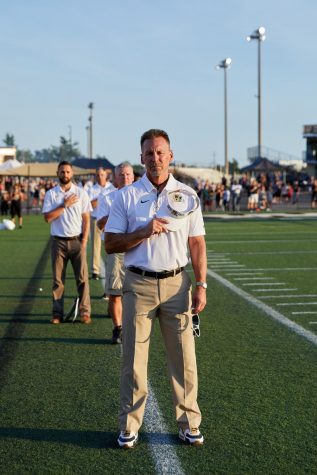 The coach reflected that his journey has humbled him as a person and helped him work harder towards his goals. 
      "Battling cancer was the hardest thing I have ever done in my life," he reflected. "I would not want to do it again, but it has benefited me so much.–made me appreciative of so many things. The experience has made me a better husband, father, teacher and person. I know that  not everyone gets thegood results I did, and that makes me very sad."
       Simmons added, " I want to take advantage of this opportunity to continue living my life." 
      Varsity football player Blake Huling, 11, reflected on the coach's battle and on his own experience as a member of Simmons' team: "We push through the pain," he noted. Huling praises Simmons for inspiring toughness both on and off the field.  
      Simmons has coached for about nine years here at Westfield but has been a coach for nearly 26 years. He did not come out of college thinking about coaching. In fact, he had a degree in elementary education and was teaching fifth grade when he got the idea of coaching from a parent. The parent suggested that because of his football experience in high school and college, he should consider coaching high school football. Simmons had played for Salisbury University as a defensive end. Simmons liked the idea of being a coach and took advantage of it.
      Simmons at the time lived near Lake Braddock High School, where he interviewed for the coaching job and received a spot in 1993. He enjoyed coaching there, saying he found a new love he had never imagined despite his history in sports. A new door had opened in his life.
      When Westfield opened in 2000, Simmons interviewed for a spot on the coaching staff with the previous head coach of the team. He figured that  later on he would likely want to become a head coach, so he earned his endorsement in Health and Physical Education, ultimately becoming a full time staff member at Westfield. He became the head coach in 2010.
      "He's a methodical person and he's always three steps ahead,"  said Max Ahiakpo, 12. Ahiakpo is one of Simmons' start players.  He explains that his coach is always on top of his game, paving the way for his players to succeed as a family.
      For years it's been said that the success of the Westfield football program, which includes five state champion titles, ties not so much with the athleticism of the players but with the talent of the coaches. 
       According to Anthony Villarroel, 11, a Junior Varsity player, "Coach Simmon's pays attention to every little thing." Those "little things" include injuries during practice. Simmons always investigates their cause, he pointed out. Simmons also works on "muscle memory" more than the average coach, requiring players to view film during lunch, learning their opponents' plays. In addition, "he hires great coaches for the freshman and junior varsity teams," said Villarroel.
      Simmons has high hopes for this year. His goal for the team is "to be playing in December." He wants to be coaching in his sixth state championship. But he believes the players this year, despite the success they have had so far, cannot be the same team they are now. He has ingrained the "never settle" mentality in the players so that they are always working regardless of how much they achieve. He thinks this mentality has been the key to the team's remarkable success over the past two decades.
      Simmons respects the consistency in the coaching staff and credits coaches for keeping the players in check. He also understands that everybody must be careful and stay healthy for the season because without the right pieces, they will not be able to play in December. 
       "It's not about one person, but about a group of people accomplishing the goal," Simmons humbly reflected.
Leave a Comment