ATHLETE OF THE ISSUE: SAVANAH COCKRILL
October 22, 2019
      As the ball comes hurtling towards Savannah Cockrill, 12, time stops. All week in practice has led up to this important moment.. She hits the ball into the air and it goes flying across the gym to the other side of  the net. The other team is unable to block the ball as it hits the ground. The Westfield Varsity Volleyball team wins again!
      Cockrill has been playing volleyball since her freshman year at Westfield. She works hard to balance her school, personal, and athletic life. As well as being a normal student, Cockrill is a strong athlete who brings an abundance of talent to the school. She plays volleyball for Westfield and has now committed to a Division 1 university to continue her volleyball journey.
      Cockrill lived in Ohio until the age of seven. She is one of four kids in her family, having two older brothers and one younger sister. She then moved to Northern Virginia and began her volleyball journey and has continued it until now. 
      Cockrill began playing volleyball in the sixth grade, although she did not play in competitions. She continued to play volleyball noncompetitively until her freshman year of high school. Once in high school, she began playing in competitions and even started getting recognignition from colleges.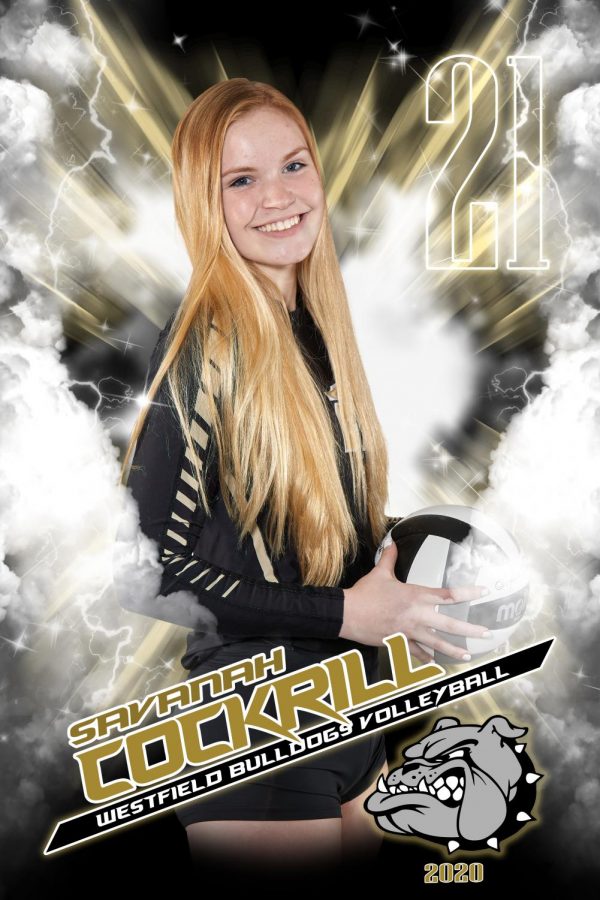 Game days are a very important part of her routine. On game days, Cockrill gets focused by pushing out all distractions and choosing a goal for the game. She will picture this goal in her mind, figure out what she needs to do to reach that goal, and pursue that goal in the game. 
      This technique of reaching for her goals is also used in her school work. As an athlete and a student, it can be hard to keep up with given assignments, practices, and everyday life.
      Cockrill says, "I try to get all my work done whenever I have free time. I communicate with my teachers to get work ahead of time when I'll be out of town."
      In her free time, Cockrill likes to spend time with her friends and enjoys working out. She looks up to her two older brothers who have inspired her to work hard everyday.
      That hard work pays off, as Cockrill began receiving college offers starting her sophomore year. During her junior year, she committed to George Mason University. She has many goals for her volleyball career that she plans on pursuing in the near future.
      Cockrill says, "My goal is to start all four years in college and hopefully get the opportunity to play overseas."
      Cockrill makes an influence not only on her team, but on younger volleyball players within the school. 
      Teresa Morin, 10, remarked, "I love that she's an amazing player, she has an amazing personality, and I love that she makes an effort to talk to younger players on the other volleyball teams."
      She is a strong volleyball player that offers much to the school. Cockrill shows effort in everything that she does, whether it be volleyball, school, or in her family. As she continues to move forward in her volleyball journey and career, she leaves a lasting impact on many people that she meets.