ATHLETE OF THE ISSUE: NOAH KIM
October 22, 2019
      It is Westfield's first game of the 2020 season. Both sides, Battlefield and Westfield, are ready for a heated matchup as parents and fans cheer loudly for their school.
      The Westfield crowd, however, is more energetic than ever. After almost nine months, their star quarterback and now Virginia Tech commit, Noah Kim, 12, has recovered from a femur injury and is healthy for the first game of his senior year. 
      On December 1, 2018, Westfield High School and Kim were ready to play their state semifinal game against Freedom High School. Westfield was a three time defending state champion on a 37 game win streak, ready to add to that impressive streak with a win over Freedom Woodbridge. The game started off close with the score tied 7-7 early into the second quarter. With 7:58 left in the second quarter, however, Kim went down and appeared very hurt. At that moment, Kyle Simmons, Football Head Coach, rushed onto the field to check on his star quarterback. Noah had hurt his femur and had to be stretchered off the field. 
      Recalling that moment, Simmons said, "I'm tryna process two things at the same time." 
      While primarily worrying about his star quarterback's injury and health, Simmons realized that he was going to have to win a state semi-final without his starting quarterback. Westfield went on to lose 35-28, ending their impressive 37 game win streak.
      The months following were all about rehab for Kim.
      When asked about his rehab process, he remembered, "I had a physical therapist at Fairfax that I would go to everyday." 
      He recalls being unable to walk at first, but it did not remain that way for long: "once I started walking again and lifting, I just did that often, and I just kinda came back," 
      When asked about Kim's attitude through his rehab his teammate, James Williams, 11, said, "[Kim's] attitude never really changed. He just always wants to win."
       His other teammate, Max Ahiakpo, 12 was shocked at Kim's quick recovery speed, saying, "almost a month after he got hurt he started walking."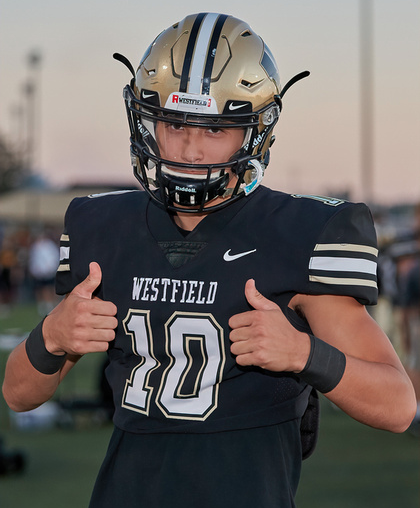 The same dedication that Kim puts into his rehab, he also puts into his playing. As the star quarterback at Westfield, Kim received offers from many different schools. Ultimately, he chose Virginia Tech University. 
      When asked for his reasoning behind choosing Virginia Tech, Kim responded, "because they treated me the same, and they didn't lose faith." 
      While some other colleges were a little frightened of his new injury, Virginia Tech held strong and continued to pursue him. 
      Additionally, while football is his primary sport, Kim also has a talent for basketball. He proved this talent with his play for the Westfield varsity team his sophomore year. 
      When asked why he chose football over basketball, Kim responded, "Because I have more of a leadership role and football is more of a team oriented thing. It's more physical and more competitive for me."
     Kim, however, is much more than just an athlete. While it's all business on the field and on the court, he still has time to have fun. He loves to play video games and play sports with his friends. He is the oldest of three kids, and enjoys spending time with his younger brother and sister. 
      Kim and Westfield are 7-0 this season. They hope to keep this streak going.