FRIDAY NIGHT LIGHTS: REDEMPTION SEASON?
October 22, 2019
      Three, two, one, zero. Zero lights up on the clock, and a roar of cheers erupts on Westfield's side of the stadium. Both teams' players and coaches exchange pleasantries following a 51-0 Westfield shutout against Battlefield.
      As the five-time state champions head into the locker room for continued celebrations, the euphoric feeling of winning fills them once again. A win under the lights on home turf feels like the perfect way to start the team's redemption season.
      This momentum carried them into the following week's highly anticipated 37-14 win against last year's 5A state champs, John Champe; the 5A champs moved up from 5A to 6A this season.
      In preparation for the season, the team starts conditioning in the spring, primarily through weight training. Some players back their conditioning with private sessions or camps. This goes on until official team practices begin in July.
      "I train at a park near me, ECL, and I might do track to get faster," explained Alex Richards, 11 about postseason training.
      "I lift and work on receiving. I work on footwork every single day; it's very important to my position," said Avery Howard, 12, on his offseason training as a wide receiver.
      As the offseason ends and the season begins, long days of practice consist of learning plays, analyzing film, and developing a team bond all while battling the sweltering summer sun. For veteran players, this is a familiar déjà vu period; new players must efficiently adapt to the rigorous demands of the sport.
      And while these days prove to be challenging and exhausting, they are essential for player development and growth.
      "Since moving up to varsity before the start of the season freshman year, I've progressed a lot. Every year as I've learned plays better and worked with different teammates, I felt more comfortable, especially now," recalled Noah Kim, 12, about his growth over his career as a quarterback.
      In final preparations on game day prior to kickoff, immense preparation by the athletic trainers, team's staff, and players' parents are carried to aid the boys. In the hours leading up to a game, players head to the athletic trainers (ATs) for treatment. Lead by Shandi Partner, head AT, Rebecca Hartnett, AT, and Trista Hartman, grad student shadowing the ATs, run the training room. Athletic trainer student assistants (ATSAs), Allison Brown, 11, Jewelle Cossio, 9, Samoa Courtney, 9, and Ashli Delcid, 10, help the trainers throughout the sports calendar.
      On her decision to become an ATSA, Delcid explained, "I wanted to try a new experience and get more exposure to the health field because I want to pursue a career in this area," 
      ATs help players stretch, roll out, do exercises, tape needed areas, and fix the air pressure in helmets. Then, they prepare medical bags and the medical table for the sideline. After the ATs have a meeting with the ATSAs, they all head to the locker room to tend to players and coaches once more before the team walks out.
      "[There is so] much work it takes to be an athletic trainer that people don't realize goes into a game," remarked Hartman.
      As the ATs and ATSAs work with the players, silent tension builds as pre-game rituals are performed. Coaches talk with the athletes, and Coach Simmons, head coach, gives a brief pep talk. The boys follow with a huddle of their own and then it is game time.
      Throughout the game, controlled chaos best describes the team's sideline. As the football moves up and down the field, players are either on the field, rewatching plays, resting until the lines switch, or receiving treatment from the ATs.
      "I'm nervous before the game, but as soon as I step on the field everything goes away; I'm just in my zone. When I'm playing, I don't hear the crowd or anything," explained Howard. 
       Howard went on to showcase his tranquil mindset once more in the team's close homecoming matchup against Lake Braddock, scoring four touchdowns, including a pick return, in the 40-34 win.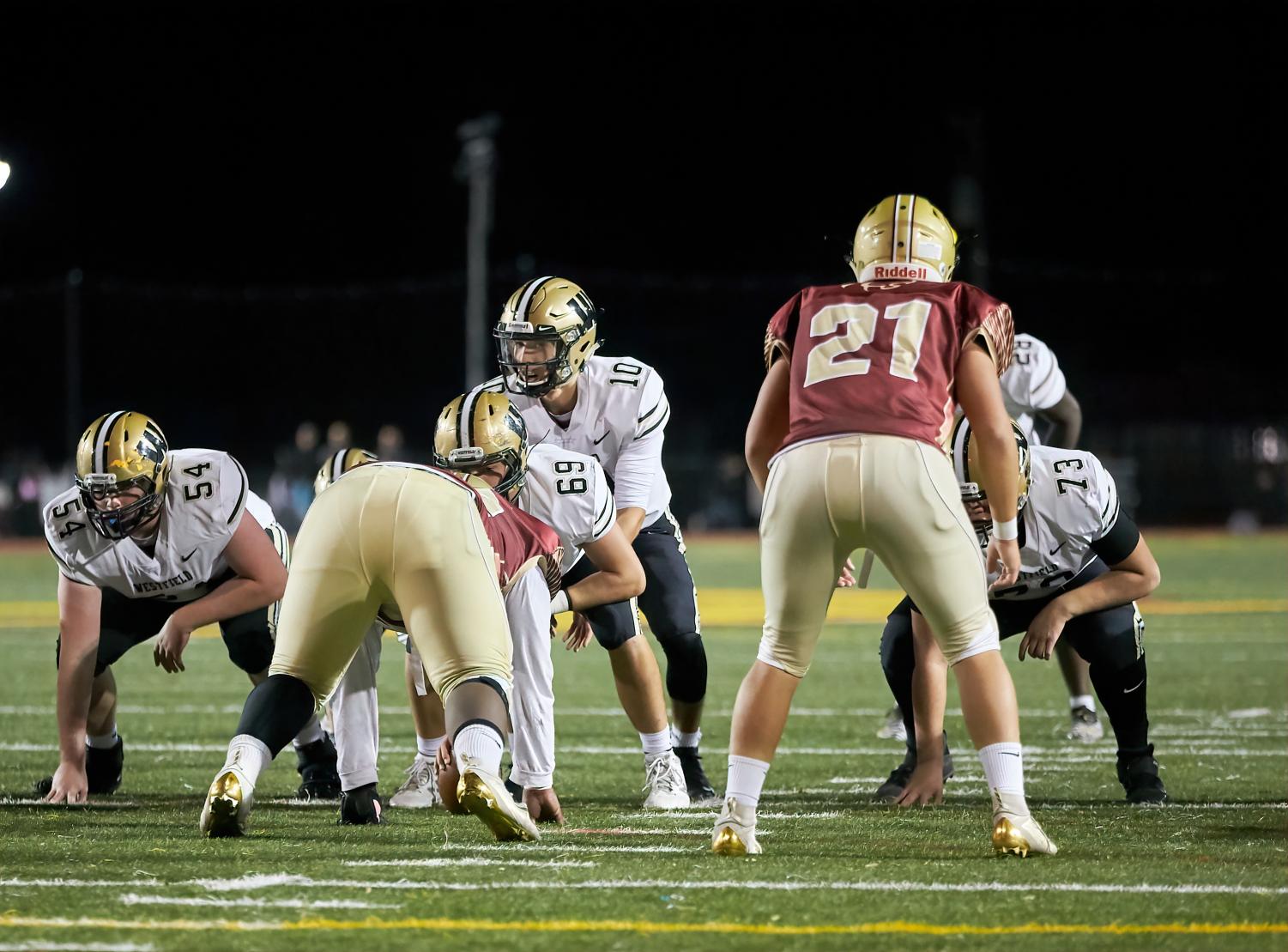 The game's adrenaline halts at halftime as the players head to the locker room where they are given banana halves and orange slices prepared by the players' parents. With one last talk from Simmons, the boys head off for the last two quarters.
      "We've played great, but now we gotta finish it," said Simmons as the boys headed off after halftime.
      Coach Davis, defensive and linebacker coach, also a History and Special Ed teacher, and Simmons, a personal fitness teacher, both work at Westfield. Players can meet with them throughout the day and during lunch periods as they watch film or simply converse with the coaches.
      "Working at the school has definitely helped build relationships with the players. I get to see them during the day and see how they are as students and hold them accountable in the classroom as well. They also get to another side of me as a teacher," explained Davis.
      In addition to great coaching, players credit their success to having a source of motivation. With the extensive football season, remembering their why helps them remain focused and grounded in all aspects of their game.
      "My mom is my motivation. I work hard so I can get a football scholarship, so she doesn't have to worry about paying for college," stated Richards.
      Howard has a similar motivation as Richard, stating, "My whole family is especially supportive. The entire family comes to the games; they really encouraged my transfer here, and my girlfriend as well. Her support helped cement that this was the right decision." 
      However, some players, like James Williams, 11, are motivated by what lies ahead.
      Williams elaborated, stating, "Winning states this year is the goal since we fell short in the state semi-finals last year."
      Prior state champ runs were fueled by with chants of "Back-to-Back," "3-peat," and "Four is More." After the team's heart-wrenching loss in the state semi-finals last year, the word redemption does not just stir the hearts on the team, but the entire community rooting for their comeback season.
      "Here in this room lies a great group of men. Now let's go have some fun," yelled Simmons at the end of halftime. 
      Fun is just what the boys are having as they continue their campaign for a sixth state title. Every run, every play, every game the teams will face in the name of redemption.