.          On October 7th, 2023, Hamas, a U.S. designated terrorist group and military organization that currently governs the Gaza Strip, attacked southern and central Israel during Shemini Atzeret, a Jewish holiday. Hundreds of Israelis were killed, and Hamas took many hostages, including dual citizens. This was the largest attack on Jews since the Holocaust.
.          Hamas struck a music festival in Re'im, where many of the attendees were teenagers and young adults. More than 300 bodies were found at the site. In addition to the attack on the music festival, many kibbutzim (agricultural-based communities in Israel) were destroyed. A majority of the deaths and hostages taken on October 7th were either residents of one of the several kibbutz located near the Gaza border or the music festival. At the Be'ri kibbutz and the Kfar Aza kibbutz, two of the many that were infiltrated, more than 180 Israelis were killed, at least 20 were children, and dozens were taken hostage. The bodies of many of the victims were found beheaded, dismembered, or burned alive.
.          Israel declared war, and showered Gaza with missile strikes; children comprise half of Gaza's population. More than 15,400 Palestinians have been killed since October 7th, including at least 6,000 children. In addition to the missile strikes, Israel has also cut off supplies of food, water, fuel, and electricity. 80% of Palestine lives in poverty and relies on aid for survival.

.          The recent events have thrown the decades-long Palestine-Israel conflict on a global stage. After World War II, the state of Israel was created for displaced Jews; this caused conflict with the Arab population that resided in Palestine. About 78% of Mandatory Palestine became a part of Israel in 1948, and more than 700,000 Palestinians fled their homes. This departure of Palestinian Arabs became known as the Nakba, which translates to "disaster." in Arabic. Since then, there have been calls for a separate free state country of Palestine; Palestine is recognized as a state by 138 of the 193 UN members, this does not include Israel or the United States. The Palestinian territories include the Gaza Strip and the West Bank.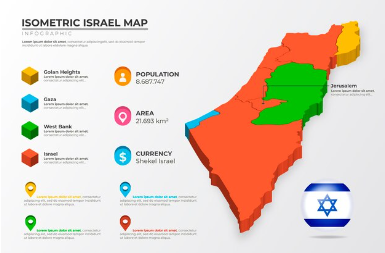 .          Of the 200-250 hostages taken by Hamas, many are women, children, and elderly. Recently, an elderly hostage was released and described the ordeal as "hell," having experienced bruises and injuries while being taken from her home. Though further explained that in Gaza, hostages had access to food, water, medical supplies, and doctors while they were held in a tunnel system in Gaza.
.          Israel holds 10,000 Palestinians in various jails and detention centers; 5,000 of these detainees have been arrested after the October 7ths Hamas attack.
.          In an article from Al Jazeera, Qadura Fares explains that Palestinian, "Prisoners are subjected to starvation and thirst; they are prevented from accessing their medicine, specifically for those suffering from chronic illnesses that require regular medication." And goes on to say that this includes cancer patients.
.          In Gaza, more than 50% of houses have been destroyed since October 7th. Recently, an Israeli missile strike destroyed a hospital where hundreds were taken shelter. Medical supplies, which include anesthesia, are in short supply. The last power station in Gaza ran out of fuel on October 11th. Hospital fuel generators are predicted to run out by October 25th. Before October 7th, more than 400 trucks of aid entered Gaza every day. Since the blockade, only 20 trucks have been able to enter. Currently, more than 200 trucks await at the Rafah Border between Egypt and Gaza, though entrances into Gaza require Israeli approval. Israeli Defence Force (IDF) soldiers are currently engaged in a ground invasion of Gaza. The IDF recently entered the Al-Shifa hospital, where at least 27 intensive care patients have died since ICU's ran out of fuel, and at least 100 bodies were buried in a mass grave.
.          Former president Obama condemned the Hamas attack on Israel, but called for the end of the blockade of Gaza, as it caused a "humanitarian crisis."
.          In London, on October 21st, more than 100,000 protesters rallied in support of Palestine. Other rallies have occurred in D.C., N.Y.C., Paris, and many other cities. Similar demonstrations have happened in support of Israel.
.          Recently, Jewish Voices for Peace conducted a protest at Grand Central Station, NY, calling for a ceasefire. More than 500 Jewish Americans were arrested for civil disobedience.
.          In light of recent events, there has been a spurge of antisemitism in the U.S. Protests have occurred at college campuses across the nation, leading to many Jewish college students feeling unsafe. NYU and Columbia University, in particular, faced criticism for their lack of response to anti-Semitism on campus.
.          Three Palestinian college students were recently shot near the University of Vermont; vigils were held at their respective institutions of Brown, Trinity, and Haverford. Brown recently decided to drop criminal charges against 20 of their Jewish students who were arrested for their sit-in protest calling for a ceasefire after school hours.
.          Both Jewish and Palestinian communities globally are left to grapple with the gravity of recent events. In the words of Harriet Lerner, "Pain is the most private experience, but its cause, effects, and meaning are often the most public and shared."