Since October has finally rolled around, the air has grown a little colder and the atmosphere has gotten a little darker… 'Tis the season of horror movies! And one of the leading directors in horror right now is none other than comedian Jordan Peele.
      With a stacked portfolio of movies under his belt, this ranking will only be based on movies he has directed so far, which are Get Out, Us, and Nope. The movies may seem straightforward based on the titles alone, but they are packed with complex themes and narratives. But, which one is the best? I'll be talking about things that stood out to me, which includes the plot, themes, cinematography, or score. 
———
Us

(2019)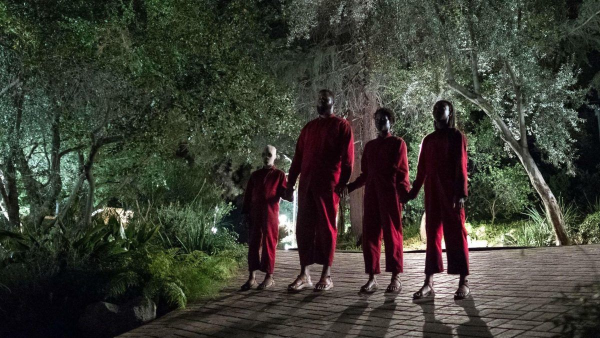 My feelings for Us starring Lupita Nyong'o, Winston Duke, and Elizabeth Moss are a bit complicated. 
      To be frank, I didn't enjoy it as much as I would have liked. The acting was amazing all around (especially Nyong'o), and the cinematography was unique, but the premise wasn't as compelling as I hoped it to be. Us felt very reliant on its themes instead of its narrative to the point where I questioned some plot elements which limited my enjoyment of the story. Of course, not everything has to make sense in a movie for it to be good, but Us felt like it was trying to be grounded in reality, and it explained things that would've been better if left unexplained. I also didn't enjoy the comedy in this movie; too many jokes were ill-timed and made at the expense of high tension scenes. There were scenes where I felt legitimately nervous, but that feeling dissipated as soon as a sarcastic comment was said.  That's not to say it was all bad. It's a captivatingly shot movie, with interesting close ups and a cohesive color palette in certain scenes. Even with its flaws, Us definitely deserves its label of being a psychological horror thriller.
Get Out

(2017) 

Chris Washington (Kaluuya) meeting his girlfriend's family. (Photo courtesy of Thegamerimages.com)
       For Peele's directorial debut, Get Out starring Daniel Kaluuya, Allison Williams, and LaKeith Stanfield was incredible. You can feel Peele's confidence in it. Get Out knew exactly what it wanted to be, and it executed it amazingly. The movie's social commentary on race and the Black experience is not only woven into the plot, but through the acting, dialogue, and subtle details and motifs. Not only was Kaluuya's acting as Chris (the protagonist) phenomenal, but his character was clever, which is refreshing for a horror movie. That's another thing with Peele: his characters actually use their brains. 
      Another thing with Peele is that there has to be humor – as he is a comedian after all – and all of it worked really well; to create so many laugh-out-loud moments in such a dark movie is an impressive feat. The close up shots of Get Out and the original score also added to the chilling atmosphere, where you know something is wrong, but you don't know what. Overall, Get Out has intricate themes, while also having a thrilling story to support it and keep you glued to the screen. 
Nope

(2022)

Jupe's (Yeun) grand showcase: The Star Lasso Experience. (Photo courtesy of Colliderimages.com)
      Nope, starring  Kaluuya, Keke Palmer, and Steven Yeun, was my absolute favorite movie of 2022.
      Its rich themes of race, exploitation, and grief/trauma are all interwoven under a quote from the Book of Nahum which appears at the beginning of the movie: "And I will cast abominable filth upon thee, and make thee vile, and will set thee as a spectacle." Every aspect of Nope is all about spectacle, but it may be difficult to decipher that from first watch. I've seen it four times… Can you tell I love this movie?
      Besides the deep themes, its cinematography is on another level with its grand presentation. Nope's cinematographer, Hoyte van Hoytema, even reinvented day-for-night shots* for Nope, creating a unique look for its nighttime scenes. Beyond that, Nope is filled with breathtaking shots, which are accompanied by an amazing score that does its job of building tension. The sound design in this movie is also incredible as it is used as another tool to create suspense and terror in the audience. Everyone should experience this spectacle of a movie, and I'll just say, I'm still thinking of the digestion scene to this day. 
———
      It's likely that you may not agree with the ranking or reviews, but conflicting opinions show how Peele has managed to bring out different interpretations and experiences with every one of us with his craft. If you haven't seen any of the movies listed, now is the perfect time to indulge yourself in these horrifying tales and realities.
*Day-for-night shots: Shots that were taken in the day but made to look like night