PROM: A RUNWAY
      Prom season. A time all high school students look forward to. From the adrenaline of the dance floor to the endless hours spent getting ready, prom is an unforgettable experience for all. A staple of any prom is the fashion: long gowns, pristine suits, and lots of glitter. 
      Westfield High School's 2023 "Night at the Masquerade" took place on April 22 at Sweeney Barn. Filled with mysterious masks, lively dancing, and of course, stunning attire, the dance was a major success. Although our Westfield prom season has come to an end, several outfits of the night have proven to be timeless. Here are some of the most fashionable guests of the night.
---
Fashionable Ladies
Steffanie Legaspi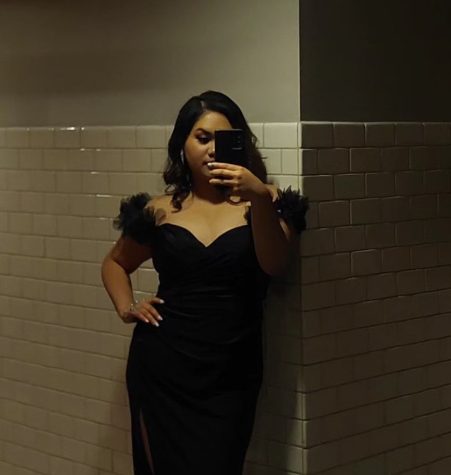 *Cue old hollywood music* Enter Steffanie Legaspi, 12, wearing a long, velvet, black dress. The sleeves of her dress hang low against her arms, feathers graced their loop-structure. Her hair was perfectly curled and rested upon her shoulders. 
      "I was trying to go for, like, a dark 90s elegant look," reflects Legaspi. Her style was based upon fashion icons like Naomi Cambell and Halle Berry. Her timeless blow out giving a small shout out to old time Hollywood. Legaspi took no time getting ready, her look took her a total of four hours which is a blessing when it comes to prom preparation. "I started getting ready at 10, and I finished right before 1. I got my hair done from 3-4."
Isabella Sasso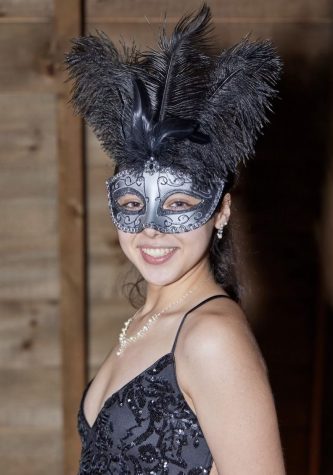 Isabella Sasso, 12, stuns in an elegant black piece, adorned with glittery designs and a criss-cross back. Sasso ties her look off with a delicate pair of earrings and a matching necklace. 
      "I wanted to really follow the theme of the prom. That was my main inspiration for my outfit," Sasso states. Staying true to a masquerade, Sasso made sure to add a dazzling, feathered black mask, a key point of her look. However, her perfect outfit needed time to come together. "It took a fat minute. I had to shower, get all clean, get into the actual dress, do my hair, and my makeup," Sasso recalls. "It was definitely worth it for the outfit though," she notes. Whether it took a while or no time at all, Sasso's outfit would have undoubtedly taken the title of one of the best dressed.
Selah Watkins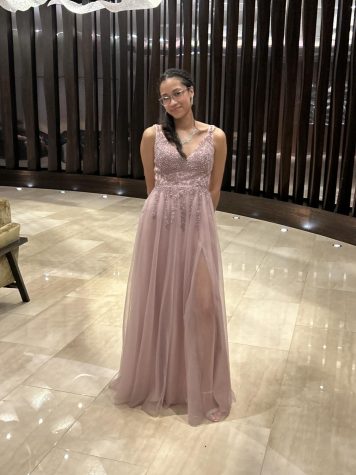 Straight from a royal kingdom, Selah Watkins, 12, dazzles in a pearlish pink, complete with jeweled details and a leg slit. Watkins's v-neckline paired with her sparkling necklace and dangling earrings creates a classy yet romantic atmosphere. 
      Watkins's elaborate attire required some preparation prior to the main event. 
      "The day before I got a pedicure and my eyebrows done, and the day of, I did my nails and got my hair done," Watkins recounts. The subtle details that she incorporated into her overall look only made Watkins sparkle more. "I started getting ready at 11, and ended around 3," Watkins added. Her stunning outfit makes it hard to believe that it only took four hours to prepare!
Fashionable Gentlemen
JL Folley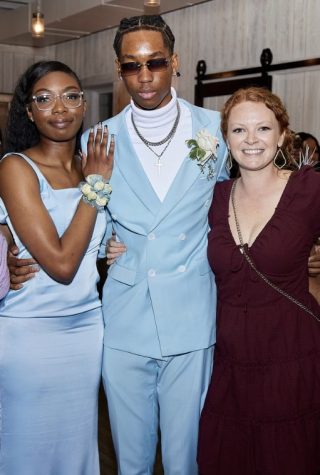 JL Folley, 12, rocks a stylish baby-blue suit with a white turtleneck underneath. He sets his outfit off with freshly done corn-rows and silver accessories. 
       For Folley, social media aided him in finding the perfect outfit. Not only was his outfit a modernization of formal clothes, his methods of finding them were, as well. "I'm going to be honest, I got this look off of TikTok," states Folley. "I didn't go to Mens Warehouse; I got it off of Amazon, but I got it tailored to me." Although he didn't have the normal fashion experience, he still impressed many — with his outfit and dance moves. 
Matthew Florian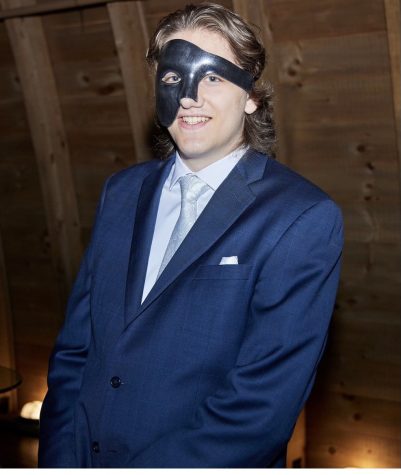 "Is that the Phantom of the Opera?" A senior, a dark suit, lingering amongst the crowd. A senior, hair slicked back dashingly. A senior, a mask covering what he does not want the world to see. Our very own phantom, Matthew Florian, 12.
      Florian adds some flavor to the prom theme by dressing as the Phantom of the Opera. "I was going for Phantom of the Opera. I got my mask from Amazon and the suit was from Josephine Banks." His simple yet haunting presence added all the more depth to the attending crowd. 
Fashionable Couples
Kimora Hardy and Kaedance Hamilton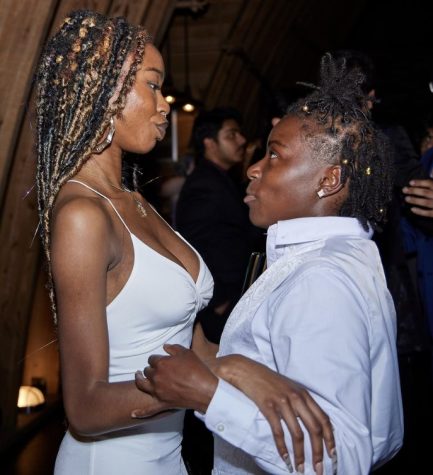 With what sounds like wedding bells in the distance, Kimora Hardy, 12, and Kaedance Hamilton, 12, pair gorgeous shades of white together to forge a precious couple look. Hardy boasts a beautifully simple gown with gold hoops while Hamilton, her confidant, flaunts a collared shirt covered in subtle designs.
      From the beginning, the couple aimed for an extravagant ensemble. 
      "We both wanted to do an all-white and gold look. We just wanted to try something different than most prom looks, since white isn't a popular prom color, especially for couples," Hardy notes. Their seemingly thought-out outfits were actually a surprise for the both of them. "When we met together to go to prom was actually the first time we saw each other's outfits. It was definitely a funny moment because the shades of our whites didn't match, but we made it work," Hardy laughs. Despite the brief surprise, the two's outfits matched perfectly together as a gorgeous couple.
Hanna Pazo Vargas and Ninrod Salguero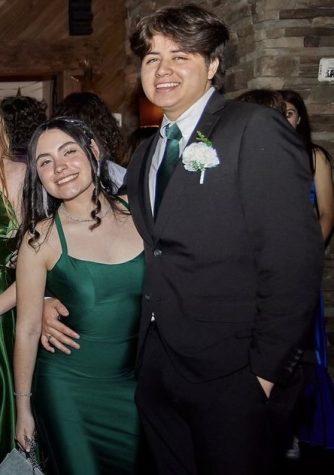 Green happens to be the color of envy, and we are definitely envious of them. Hanna Pazo Vargas, 12, and Ninrod Salguero, 12, enter prom in a perfectly matching dress and suit. Pazo Vargas rocks a form-fitting emerald green dress, and Salguero compliments her in a slick black suit, featuring a matching tie. 
      "It wasn't hard," Pazo Vargas answered when asked if matching was hard. "I only told him the color of my dress, and he just found something to match with it. He kind of wore something similar last year, so I thought it would just be that but with different colors." They matched perfectly without knowing what the other was going to wear. I know I would call that couple goals.
     "I don't think we had a 'couple look' that we were going for. We just wanted to be ourselves and look cute together," reflected Pazo Vargas. 
Honorable mentions
Jupiter Spencer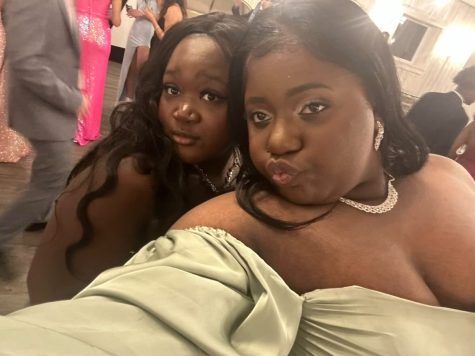 Jupiter Spencer's, 12, attire consists of a beautiful form-fitting sage green dress. The dress has long sleeves, but shows off Spencer's shoulders. Their hair was perfectly straightened, and their nails were embellished with gold details. 
"I don't really know," responds Spencer when asked what their inspiration was. "I was just going for elegant but pretty." Not only did Spencer succeed in looking elegant, and pretty, the time spent really showed in their outfit. "It took me at least 7 hours. I had to get my hair done, my dress — I had a seamstress come in, then makeup. We did a lot — too much actually." Spencer showed the beauty of the experience, and how it really pays off. 
Mr. Morris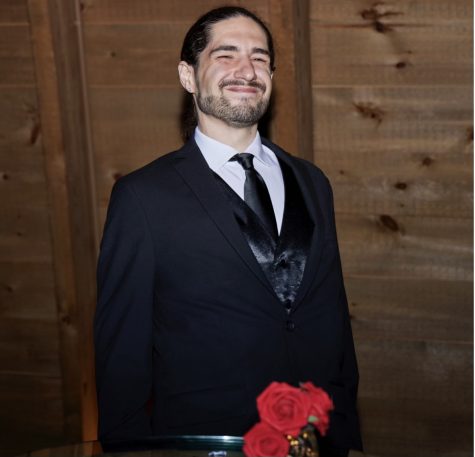 Although Kevin Morris, history teacher, was a chaperone, he was one of the best dressed ones (sorry Mr. Dibari). Morris sports a nice, black three-piece suit, and diamond stud earrings. 
      "I was just trying to go for a clean three piece suit with a traditional vest. Imitating a tuxedo," stated Morris. A tuxedo? Some of the students didn't even put in that much effort (air force ones, really?) 
Leave a Comment
About the Contributors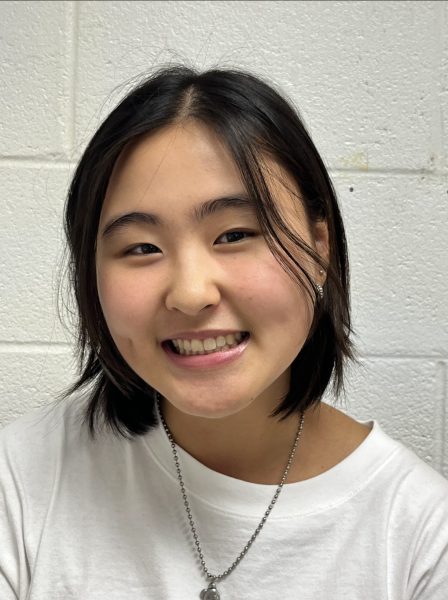 Alyssa Rim, Section Editor
My name's Alyssa and I enjoy writing about music and movies. I hope to express my interests thoroughly through the Watchdog!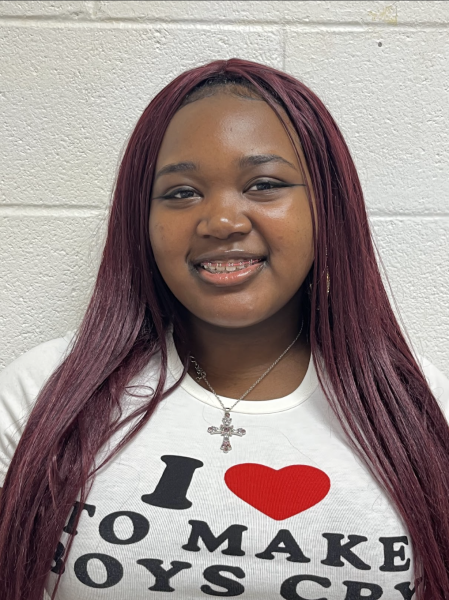 Naysa Piper-Fisher, Senior-Editor In Chief
Hello, I'm Naysa the Senior-Editor In Chief of the paper! I love all forms of art and self expression <3