WESTFIELD HIGH SCHOOL: A RUNWAY
      Shapeless baggy pants. Eye-catching glittery accessories. Stained chunky shoes. Just like flowers, Westfield High School is a bouquet of clothes and colors. In my three years here, I have seen an array of styles in the student body as well as the staff. Through their outfits, I have observed my peers mature and grow into their identities; looking back on my own photos and memories, so have I. To most teenagers, fashion is an extremely important part of life. Through fashion, we express ourselves, we are perceived by others, and we are judged. Here are some of the outfits that stood out to me in the Westfield halls.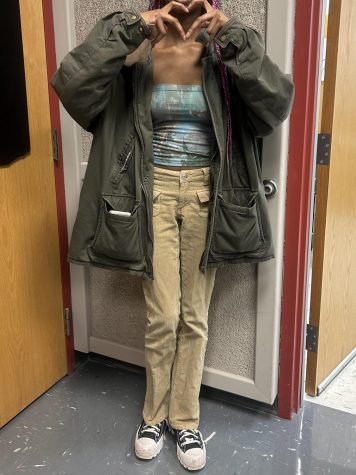 Good outfits aren't always elaborately planned. Kimora Hardy, 12, sports a patterned crop-top underneath a juniper jacket. To end the outfit, she wears low-rise dark beige pants with platform Converse.
      "How long does it usually take to put together an outfit?"
      "Sometimes for school days it takes around five to ten minutes for me to choose an outfit. Sometimes I switch everything at the last minute. It really depends on how I feel," Hardy states. I noticed that all of Hardy's pieces were flattering and had distinct, vibrant colors. 
      "Which clothes are you usually drawn to?"
      "Most of my tops are cropped and tight. I also love low-rise pants. I like clothes that accentuate how I look. To finish off most of my outfits, I like fancy belts and other cool accessories," Hardy replies. My favorite part of Hardy's outfit was the way that all the colors blended together. Her top provided a small pop of color while complimenting the muted green of the jacket and the neutral tone of the pants. I was drawn to the uniqueness of each of Kimora's pieces and her effortless yet beautifully feminine style. Her outfits are undoubtedly some of the prettiest in Westfield!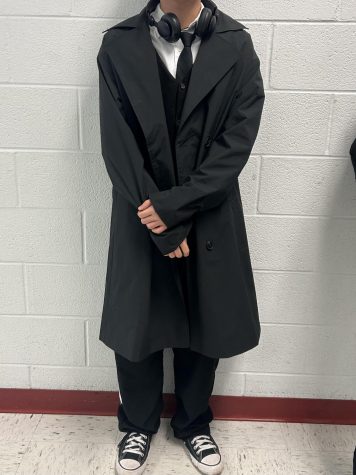 Some Westfield students' closets are straight out of a cinema. Reminiscent of a noir movie, Trung Minh Tran, 10 wears a white collared shirt underneath a black undervest, topped off with a large black trench coat. Tran adds standard black Converse with wireless headphones worn on the neck. 
      "What do you keep in mind when styling yourself?"
      "Usually I think first about what theme I'm going towards for the day. Like, should I look more studious? More laid-back? Going off of that, I mostly gravitate towards black and white because of how well they pair together. I like peachy, neutral colors too," Tran remarks. The monotonous tones of each of Tran's pieces made his outfit look put together and carefully curated. The white of his sneakers and undershirt tied the look together.
      "Do you have a particular inspiration for your style?"
      "My friends and Pinterest are my main sources of inspiration. I also like to go off of outfits from comics and webnovels," Tran answers. My first thought when I saw Tran is that it looked similar to other looks that I had seen online and through social media. To see these digital outfits come to life through my peers brings me great joy. Minh's care in his outfit was evident to see, and I loved seeing it in the halls.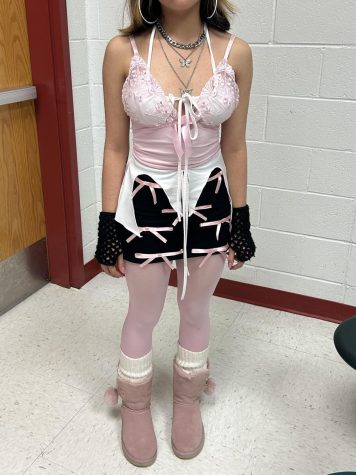 A trend that has taken off in fashion is fairy-like visuals and pink, pink, pink! Natalie Najera-Luna, 12, dresses in a lacy, light pink tank top, layered on top of a white tie-up piece. Underneath, her black skirt is adorned with pink bows, matching the pink stockings and boots. The small details included in Najera-Luna's look are black, woven, fingerless gloves and white socks. On her neck are various silver accessories with two butterfly charms.
      "What do you keep in mind when styling yourself?"
      "I like to look for cohesiveness and lots of layering. I love little things like when silver hardware on my earrings match the silver on my shoes, or when I bring in little bits of colors all throughout the outfit. It's all about the little things," Najera-Luna responds. The element that stood out the most to me in her outfit was how cleverly each color appeared. The main shades can be picked apart: a light pink, white, and black. With each new color that is introduced, you can notice it in another part of her outfit. 
      "What do you hope people think when they see your outfits?"
      "I hope that they think I'm just a normal person that uses clothes as a way to express their individuality. If anything, I hope to give someone the confidence to not be afraid to express themselves," Najera-Luna says. Natalie's expertly built outfits are pleasant to see as I walk in the halls. The matching colors and gorgeous accessories are what stands out to me about Natalie's lovely style.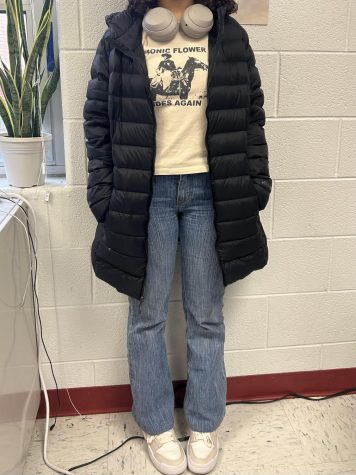 Clothes can be as fashionable as they are relaxed. Comfortable yet stylish, Zaina Smith, 12, wears a cream-colored graphic tee on top of blue, slightly-flared jeans. Her long black puffer jacket adds darkness to her outfit. Similarly to Tran's outfit, Smith also accessories with wireless headphones, the gray color pairing well with the beige of her shirt and the white of her sneakers. 
      "Do you have a particular inspiration for your style?"
      "Tiktok and Pinterest are pretty helpful for finding different style inspo. I think that social media in general is important for the fashion world," Smith opines. The internet has proved to be an effective conduit for discussions of fashion trends, events, and news. Tiktok, especially, has been responsible for the rise of several trends in the 2020s.
      "What does your outfit say about you?"
      "I think that it's mostly a reflection of your interests. Like with recognizable brands and graphics, my clothes show my interests." Likewise, the band album on Smith's shirt and her headphones represent her love of music. Zaina's relaxed styling is a breath of fresh air, and the unique graphics are my favorite part of her outfit.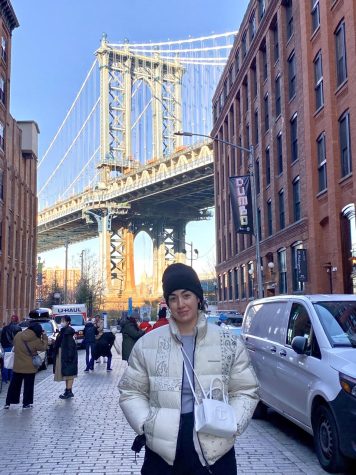 Teachers are just as stylish as their students! With my favorite fashion amongst all of the Westfield teachers, Anuilagi Togia, English 9 and AP Language and Composition teacher layers a white puffer jacket with various designs on top of a pair of black pants. To match the bottom-half, she wears a black beanie, paired with a Tory Burch crossbody. 
      "Can you describe your go-to outfit?"
      "I love pants. Anything with a wide leg trouser and sneakers looks good. I base all my outfits on that," Togia comments. This formula never fails. Togia's different variations of this outfit always make her stand out as an unfailingly good dresser. Her shoes play a big part in this title.
      "What is the most noticeable part in your outfits?"
      "I think people definitely notice my sneakers the most. I hope that they think they're cool," Togia notes. The times that I pass by Ms. Togia's class, I always admire her individually special pieces, along with her sneakers! My favorite pair that I've seen are white, subtly spotted with Hello Kitty faces. 
      The different styles that I have admired in Westfield during my high school career not only reflect the appearances of Westfield students, but their personalities and the stories that they all carry. I hope to observe many more evolutions of character, as well as fashion during my final years here.
Leave a Comment
About the Contributor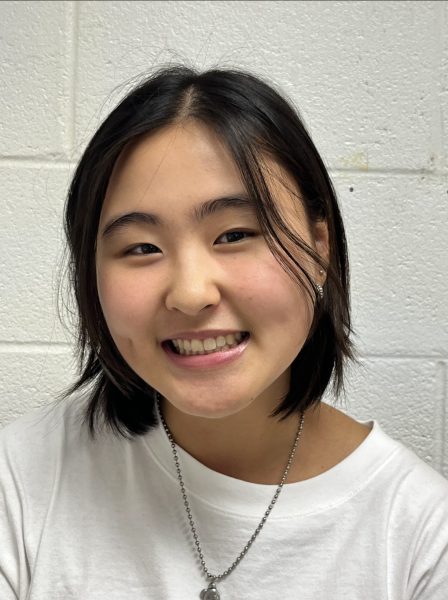 Alyssa Rim, Section Editor
My name's Alyssa and I enjoy writing about music and movies. I hope to express my interests thoroughly through the Watchdog!