THE IRONIST: WESTFIELD'S SPIRITED HALLS
          Though many would assume that traveling through school hallways would be a hassle, Westfield students and staff find that navigating the hectic crowds of the hallways is the highlight of their day. 
          Students spend a substantial amount of time in the halls. In fact, nearly thirty minutes are given for passing on A Days. This half-hour provides students with many opportunities to get closer, figuratively and literally. 
          Lilli McNerney, 10, shares her frequent experience while walking to third period: "Friend A shoves Friend B into me, I fall flat on my face in the hallway, my friend trips over me, and then people from behind us step on my notes and ruin them." 
           Sam Miller, 12, adds, "Even better, is when people run in the hallway. Crowded ones. Straight into you." Westfield is known for its athletics, especially football, and these students are clearly trying to get some extra tackle practice in for the playoff season.  
          Students adore AP tests, in fact, the only thing they love more is walking up staircases during passing time. Pointing out a common hallway phenomenon, McNerney states, "[Walking up] the left side of the stairs is a great way to trip people up who think they are doing the right thing, but are actually doing the wrong thing." Walking on the left side of the stairwell is such a brilliant idea. We should all try this efficient tactic and show our bulldog spirit by getting trampled together!
          It is extremely clear that punctuality at Westfield is not a problem at all, hence the new, glamorous hall passes that are larger than most of my essays. To make the hall passes even better for next year, we should start bedazzling all of them. 
          McNerney recommended, "If you ever need an excuse to be late to a class just pass C Hall. I guarantee you will get trapped in it somehow and it will take you at least five minutes to get out."
          I mean, once you join C Hall, why would you want to leave? Half of the school is present at any given time and the indoor pep rallies that occur on football game days create an even more welcoming atmosphere. There is no experience like walking to English, trying to be on time, and instead joining the lively vortex of chants of "I believe that we will win." 
           Maddi Luther, 9, asserted that C Hall is "almost like a Travis Scott concert," noting, "It's just crazy like that, you might get crushed, you might get stepped on." As someone who passes through C Hall everyday, it really is one enormous, exciting mosh pit. The best part of going to C Hall is that unlike most concerts, where ticket prices sell out quickly and are at least 150 dollars, C Hall's admission is completely free with an unlimited capacity.
          Between the lively dynamic of C Hall and constant crowds pushing their way through the halls, it is clear to see why students are so adamant about professing their love for Westfield's  halls.
Leave a Comment
About the Contributor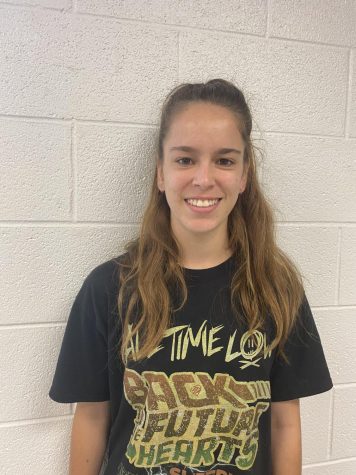 Lizzy Laurelli, Staff Writer
Hi my name is Lizzy, I am a sophomore, and I enjoy listening to rock. In my freetime I like to play softball and basketball for Westfield and with my friends.