BROOKE REED: ATHLETE OF THE ISSUE
As Brooke Reed, 12, sets foot on court, the mentality switches. Her focus is on winning–but not just winning. Specifically, she's about  winning as a team.
           Noel Klippenstein, Varsity Girls Basketball coach, praises Reed's distinctive characteristics as an athlete and a person: "Brooke was a varsity girls basketball player (like Shreya Sivaram) all 4 years. I coached her in seventh-grade AAU and was impressed with her competitiveness and willingness to work hard to do the little things. She was and has always been an excellent defender and rebounder!"
Klippenstein pointed out that Reed is not just a player; she's also a leader. She has served for three years as captain of her team. She was averaging 10 points and 8 rebounds a game as a power forward or center before an ankle injury cut short her season on January 8. But the injury did not stop her from supporting her team vocally, and in spirit.
"Her team spirit became the role she played on the bench in games," said the coach. Klippenstein also described Reed as a "vocal leader" whose impact on the team is "uplifting." Those leadership skills, says the coach, earned Reed her position as a captain for the past three years.
Reed has a long history with basketball, as she's been playing for the past 12 years. Reed used to play for Virginia Elite and Takeover's basketball teams. She dabbled in other sports– swimming, taekwondo, dance, and gymnastics– but those just weren't intriguing enough, she remarks.
Reed's fondest moments related to basketball include playing the game with her older sister, who plays college basketball in Canada.
"I feel like I look up to my sister in a lot of ways, because she always pushed me," reflects Reed. Her sister played a role in her confidence as she always motivated her. Reed's senior night was also a fond moment, though she didn't get to play because of her injury. Despite being benched, she still played a big role in cheering on her team.
Reed's family is pretty big on basketball. Reed's father played basketball for Princeton; while attending law school in Chicago,  he also played pick up basketball with former President Barack Obama. The girls in Reed's family support the Uconn Huskies.
Life as a student athlete can be stressful sometimes, especially when you're an athlete, a dedicated student and even a card-carrying member of  the National Honor Society. Reed said "planning ahead" helps her a lot as well as "jotting down what I have to do." Reed also likes to make sure she always has time to care for herself so she can succeed.
            Helen Mondloch, English teacher, affirms Klippenstein's assessment of Reed's character: "As a student in my Honors English 11 class last year, and also as a member of the Westfield Watchdog this year, Brooke is steadfastly poised, mature and dependable. She is a strong writer who gets the job done."
In her free time, Reed enjoys writing and peaceful walks with her dog. She also enjoys spending time with her family.
Reed plans on furthering her basketball career and taking it to the next level. She recently committed to Brandeis University in Massachusetts, where she will compete in Division III women's basketball. She plans to study either communications or journalism.
As her high school days draw to a close, Reed reflects, "Even though school has been very busy and tough, I'm proud of what I learned, and what I've been through with basketball."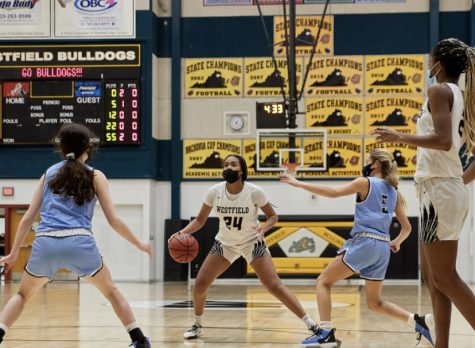 Leave a Comment