WESTFIELD ARTSHOW
       Westfield is filled with many talented visual artists across countless mediums. From photographers to painters, from digital artists to sculptors—the Westfield Art Show is a place for all these artists to showcase their skills. 
       The art show ran from March 13 to 14. It was held in the gym, where artists set up booths and rooms for their work to be displayed. Upon walking in, you were immediately hit with color; the usually washed-out gymnasium was alight with vibrant and dramatic shades. Even the charcoal drawings and black and white photography struck a jarring contrast.
       Walking around, it was obvious how much care had been put into each and every display. Artists talked openly about their inspirations or shared them in written statements. These inspirations struck me, each being so wide and yet unique at the same time. They brought up a wonderful sense of humanity that stayed with me even after the show was over.
       For example, artist Teresa Morin's, 12,  display was filled mostly with photos of flowers. In her artist's statement, she said: "My goal is for [people] to see the delicate nature of flowers themselves and how it relates to the word love." She shared with me and several onlookers a story of how, as a child, her dad always brought home flowers for not only her mom, but for her as well. She came to see flowers as a symbol of love, and her photographs show that.
       Another artist stood out as well, her message in stark contrast to Morin's. Ana Diachenko, 11, used her paintings to capture the pain and struggling that athletes, especially student athletes, face. Her art explores various serious topics, from drug addiction, self harm, and eating disorders. Diachenko shared with onlookers how personal these issues were to her, as a student athlete herself.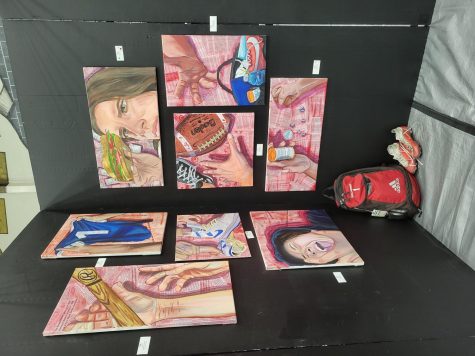 Other artists drew from different, often lighter places of inspiration. Cartoonist Mo James, 12, shared comics featuring her original characters. Anika Joshi, 12,  displayed photos heavily centered around food, sharing that she is fascinated by the storytelling potential of photography, and how special a meal shared with family and friends can feel. Erica Brill, 11, showed off a large sculpture in the shape of the tree of life, made up of trash, wrappers, and discarded clothing—taking a more environmentalist stance with her creation.
       The art show was a wonderful and deeply human experience. From pictures of protests and paintings depicting abuse, to charcoal self-portraits and photos of flowers, each artist worked hard to make their voice heard. Westfield is filled with many talented artists from every medium, and the art show gave a select few a chance to shine.
Leave a Comment