INSIGHT INTO FCPS' CAPPIES SHOW
       "From what I've heard, attending the shows including in the Cappies is honestly such a great experience,"  states Isabella Jimenez, 11, when recollecting her classmates' experiences at the Cappies. 
       The Cappies (Critics and Awards Program), is very important to FCPS' theater departments. This international program is almost entirely student based and provides various learning experiences for students in high school theater, journalism and playwrighting. This program also allows a select group of students (usually 3-9), to be able to view performances held by different schools and critique them in 300-600 word reviews. Chosen students are trained as critics and are able to decide who will be placed in the Cappies award ballot, along with students who have critiqued 5 or more shows are able to vote for Cappies Show winners.
       Westfield in particular has won several Cappies, mainly for the school's 2019 show "Rock Of Ages", a play set in the mid 1980s, following the story of Drew (John Henry Stampler) and Sherrie (Keeley Rogers),  who share their love for not only rock but also for each other. This performance won Westfield students various awards including, John Henry Stampler as "best male vocalist" and "best comic actor in a musical", given to Alan Gutierrez-Urista. 
       What makes this program especially important is the Gala awards ceremony held for Cappies winners, annually, at the Kennedy Center in Washington DC. "It is an exciting and formal celebration for the winners of the cappies and anyone else attending,"  opined Isabel Nemati, 12. During the end of the season, nominated shows perform and the winners are then awarded at the end by critics and peers.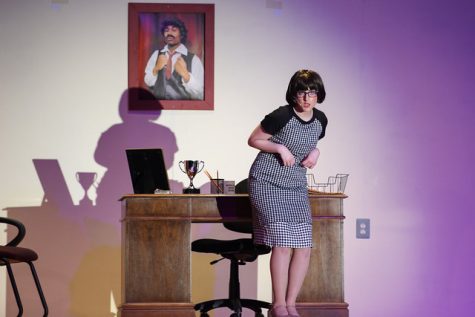 Chosen adult and student critics gain the opportunity to watch performances such as Hayfield secondary school's "School Of Rock" performance of 2017. "Hayfield secondary school phenomenally executed School Of Rock filled the audience with the desire to throw a hand in the air,"  opined Maggie Landis, former Edison High School student. The Cappies program is most useful because it trains theater students to improve their writing skills through reviews and leadership skills in performances, as well as allowing students to express their creativity.
       This year offers many cappie performances from different schools across FCPS, including: "Into the Woods" by Chantilly High School, "Crazy for You" by South Lakes High school and Westfield's own musical performance of  "9-5", and more. The Cappies not only give theater students opportunities and teach critics to be proper leaders but also allows people from other schools to come visit the work of FCPS's theater departments. 
Leave a Comment