VALENTINE'S DAY THROUGH THE EYES OF WESTFIELD TEACHERS
        Every February 14, the whole world is in a love-filled craze attempting to think of an elaborate way to show love to those around them. Whether that be a teddy bear, heart-shaped chocolate, or a national favorite, flowers, Valentine's day is a day to express love and friendship. 
        Reservations to a favorite restaurant are made, rom-com movies are watched, and sweet treats like cupcakes or cookies are baked. For many this is a special day to celebrate with their significant other, or a day to celebrate with your girlfriends which is commonly referred to as a "galentine's" event.
        However, not everyone has those same feelings or love and desire for such a holiday. Some believe it is a pointless day generated to promote capitalism. Anti-Valentine's day enthusiasts like to call the it a "Hallmark holiday" due to the fact that companies like Hallmark use this day to sell their inventory in masses for their own profit as they do for other holidays with little significance like National Daughter's Day, Grandparent's Day, and Clergy Appreciation Day. Anti-Valentine's Day enthusiasts aren't necessarily anti-love, on the contrary, most believe Valentine's Day is meaningless because love for others should be celebrated every single day.
       Everyone in America has their own opinion on Valentine's day, but what do Westfield Highschool teachers think? Do they celebrate this holiday? Or is it just another hallmark holiday? 
        Laury Cudahy, College and Career specialist reflects, "I am not a big fan, I feel like it is kind of a forced celebration. I am more of a show-people-love everyday kind of person"
         When asked how he felt about public display of affection (PDA) in Westfield hallways on Valentine's day, Kevin Laub, English Teacher, encouraged, "Students do not understand that there is a cooties epidemic that is running rampant since the 1970's and if you hold hands or god-forbid kiss, you could transmit the disease, and I hope that people are listening to the CDC and getting there cootie shots."
          Travis Tucker, Dean of Students, when asked if Valentine's day was overrated, replied, "Absolutely, it is clearly capitalism at its finest just trying to get people to buy stuff." 
        Amanda Blizzard, Social Studies teacher, admits, "I have no idea why this holiday exists, it is the absolute worst. I mean why on earth would we have such a holiday when there are so many other holidays like Saint Patrick's Day, Flag day, and Thanksgiving along with all the other glorious holidays that exist and now people want to add cupid, hearts and everything like that, something else I gotta buy!"
         Lon Pringle, Philosophy teacher, angrily declares, "Do we really need Hallmark, to pick a random day, on the Calendar, to tell everybody in the world, to guilt everybody in the United States, into spending more money. If you really care about somebody, do you really need a day on the calendar to remind them that you care about them? I don't get the point. The point is to sell more flowers, more candy, and more teddy bears. The best time to give a gift is no time, any time, random time, because then it is unexpected. I am not speaking of birthdays, and other holidays, but Valentine's is a really random made-up holiday."
         Brian Nolton, probability and statistics teacher, reveals, " I think it is a made-up holiday so we will buy chocolates and cards to spend lots of money and put it in the economy. However, don't get me wrong in the sense that yes, I love my wife and I want to do something for her on Valentine's day but I can love my wife and do something special for my wife anyday. Why do I need a chosen day to get her flowers and chocolates?"
          Shawn English, AP Government teacher, comments, "It is a holiday profited by Hallmark. I do not celebrate Valentine's day, I have not celebrated Valentine's day since grade school where we had to pass out Valentine's day cards. I think in highschool we kind of go overboard with it, with the balloons and the big bears."
         Kirk Ewalt, AP Lang teacher, said, "Yeah, I like Valentine's day. It is something I try to advertise with my wife, we actually don't do chocolate or things like that, but one thing we gave each other was Valentine's day socks. We are Boamba's fans so we gave each other Boamba's Valentine's Day socks. 
When asked if Valentine's day was overrated Ewalt replied, "Yeah, it is a little over-commercialized and no one really remembers where it came from but I think it is a good thing to have an extra day out of the year where we try and remember those relationships that are special."
         Laura Eghervba, ASL 2 teacher, signed, "With these past years, the world needs love." (Translated from American Sign Language to English)
Leave a Comment
About the Contributor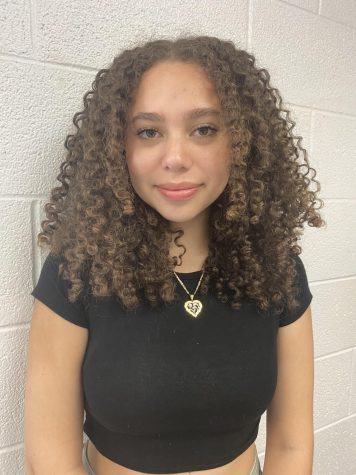 Dayanna Corado-Hernandez, Co-Editor In Chief
Hi my name is Dayanna, I'm a senior and Co-editor in chief of the newspaper. I love listening to music and watching movies.