ATHLETE OF THE ISSUE: STEPHANIE PICHARDO-SOLIS
February 26, 2022
        It seemed like the crowd's eyes were on her, and only her, as her teammates ran in circles. After three years of begging for a solo, she finally got it. Yet, her nerves were getting the best of her as she got into position. 
        Then her part in the song came, like a flash of bright light. This was her time to demonstrate all she had done over these past few years. This was her time to shine. 
        Stephanie Pichardo-Solis, 12, has been an active member of the Westfield Hip-Hop dance team since her freshman year. She is one of few members who qualify to be on the varsity team. 
        Pichardo originally started dancing for her middle school's Hip-Hop Team, and from there her love blossomed. "I first got interested in hip-hop in middle school — eighth grade. I always loved dancing, but I was a shy girl," Pichardo replied when asked when and why she started dancing. "I saw my friends getting into hip-hop and decided why not."
        Her first encounters sparked her passion, and it has been going strong ever since. So when she got to high school, she decided to continue with the sport. "I just thought it was such a fun activity with nice people," Pichardo replied when asked why she continued to dance on the team. "I just felt so comfortable being on that team. It was such a good experience I just didn't want to leave."
        Through the years, Pichardo's dancing abilities have advanced and so has her confidence. Her teammates noticed these changes, and so did she.
        "As a freshman she stood out; she was always good and had the beat," remarked Shelley Przybocki, coach of the Hip-Hop Dance Team. "There were times where I had to help her out. Watching her go from a 'I like to dance person' to a 'I'm confident in what I'm doing'– that's been the best part of watching her the last few years."
        When it comes to Pichardo's dedication to her sport, the entire team knows that she puts her most effort into it. Whether that means practicing during water breaks or after practice, Pichardo is the one to do it.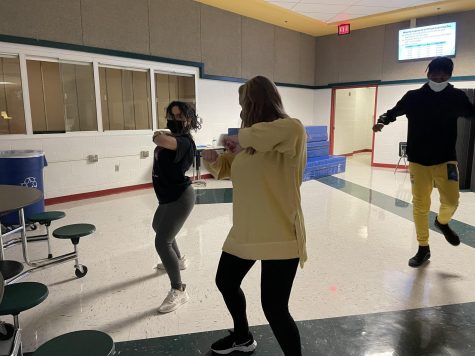 "When it comes to the team, she doesn't play; if the coach tells her to do something she will do it with no questions asked," commented JeanLuc Folly, 11, one of Stephanie's teammates. "She's the one to learn a dance one day and the next day have it memorized."
        "When she started she took it seriously, but she just gives 100% every single practice. She's at every practice, she's on time, she's always smiling, and she always has a positive attitude. To have someone like her who's constantly giving 100% all the time is just a dream," said Przybocki. 
        All athletes know that balancing between school and sports is hard. Time management isn't a strong suit for most teenagers. Yet, Pichardo has been able to find the perfect balance for herself. 
        "Honestly, there were some days when I needed to finish doing my work, but I found time," reflected Pichardo. "Whether it was before practice or waiting for the bus. It wasn't really that hard because I was just able to find time." 
        Pichardo's hard work in her classes has enabled her to be able to get into Virginia Commonwealth University (VCU). Her college acceptance is only one step in the future that she plans for herself. 
        "I just want to become a pharmacist or a nurse. I just want to keep moving forward and keep being successful in my own way," stated Pichardo. "I want to continue dancing though; I don't want to lose that spirit in me."
        Pichardo has always kept a smile on her face and her spirits are always high. Even through tough times, it seems as if nothing can dull her shine. So with whatever she does and wherever she goes, everyone knows she'll make it. 
        "I admire so many things in Steph that there are two many to write," opined Folly. "One important thing I admire about Steph is that she is always in a good mood. Whenever I turn around she's never upset or angry about anything. I have learned that whatever you face in life, always keep a smile on your face and have a great attitude."
        "She's gonna be the hardest goodbye I've ever had in a team," asserted Przybocki. "I can't imagine being without her next year; I can't imagine not seeing her face or just seeing her smile. I want her to be happy. I need her to be happy."