WESTFIELD WELCOMES DYNAMIC NEW COUNSELOR
November 10, 2021
          The myriad of changes witnessed by Westfield during this unique COVID-oriented school year  includes the introduction of a dynamic new guidance counselor. The school was honored to welcome Jeanna Squif, Subschool 1 Counselor, as the counselor for students with the last names A – Bib, preceding the leave of Squif's predecessor, James Franklin, Secondary School Counselor. 
          The most discernible trait of this new bulldog is undoubtedly her charismatic and welcoming personality. Possessing the gift of being a natural nurturer and friend, speaking to Squif instantly reveals that she is genuinely attentive to the needs of every single one of her students. In fact, she knew from a young age that she was meant to help others. 
          According to Squif, "When I was in high school I was one of the kids that everyone would go to with their issues. I remember my mom saying, even when I was in college, 'Have you ever thought about school counseling?' I do like to connect and help, and for a young girl I had surprisingly a lot of wisdom."
          However, the profession of counseling was not what Squif had planned for going into college – instead, she initially pursued a career as a foreign service diplomat. At Gonzaga University, she completed two Bachelor's degrees in Spanish and Political Science. However, a realization that her desire for a big family would conflict with this career path led her to discover a more fitting profession. 
          "I started to think about what career might fit me as a person but also a future for a large family. I always loved helping, I mean even being a foreign diplomat would fall under the helping profession… So, I think being a counselor is just a natural part of who I was," explained Squif. 
          Following this decision, Squif graduated from the same university with a masters in Psychology and a newfound ambition to help students succeed in high school and beyond. 
          Additionally, she fulfilled her passion for a big family — currently, she has five kids and three grandkids, along with a husband of 28 years. Her oldest daughter, Alexis, is 27 years old with 3 kids, followed by 24 year old JMU marketing graduate Sophia, 23 year old air force staff sergeant Landon, George Mason student and future guidance counselor Maria, and 10 year old Isabella.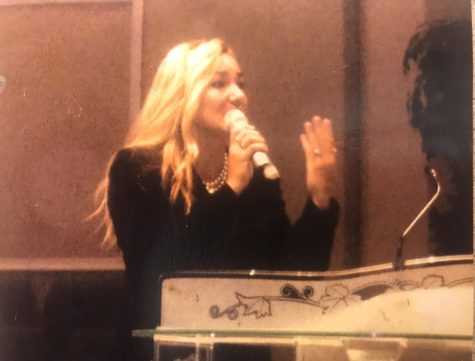 The fascinating diversity of career paths among her kids capture Squif's own multifaceted nature, which is apparent from the moment one steps into her office. Not only does it display a motorcycle helmet next to her desk, but also a varsity cheerleading jacket hanging by her door. Similar to many other telling items in her room, both of these hold a meaningful place in Squif's heart, demonstrating her lively personality and a throwback to her prized high school days.
          In fact, her overt multipotentiality shone through ever since she was a teenager. Not only was Squif a well accomplished cheerleader, having performed at the Hula Bowl in Hawaii and coached for the National Cheerleading Championship in California, she has also sung for Senators on Capitol Hill and is fluent in Spanish.
          To add on about her astonishing cheerleading career, Squif explained, "When I was 16, our cheerleading team was ahead of its time, we were competitive when it wasn't competitive. We did stunts that weren't even done in the universities. When I went to college and became a university cheerleader, they weren't even doing what we did in high school. We got chosen from all across the nation to cheer at the Hula Bowl in Hawaii. There, they chose two girls from the entire nation to coach at the National Cheerleading Championship in California and I was chosen at 16."
          Her singing career has continued into her adult years. She still enjoys singing at her church's worship group alongside many of her friends. Some of her other favorite activities include cooking different types of Argentinian food, working on her interior design skills, and going on motorcycle rides in the mountains with her husband of 28 years. 
          However, like everyone else, Squif has encountered many struggles throughout her life. One of the most impactful, according to her, was when she was 16.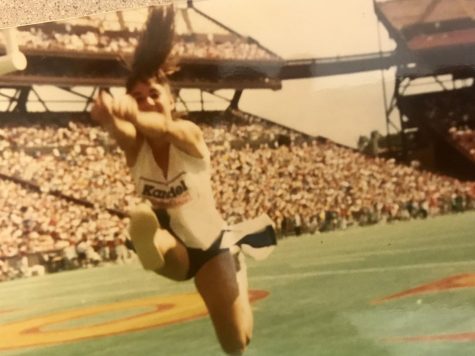 Squif revealed, "When I was 16 my father was diagnosed with cancer. I dropped from like a 3.8 to a 3.6 in one year and nobody really ever reached out to me as a guidance counselor. That's also one of my goals as a counselor, to make sure I am keeping an eye on all the kids."
          Clearly, Westfield is more than gratified for Squif's addition into its staff team. Although it is obvious that her impact here will be nothing short of excellent, perhaps the best projection of the future comes from Squif herself: "My goal is that I reach out to every one of my students, not just the ones that walk in the door because I will be reaching out to the ones who don't. I want to make sure that they all feel valued and supported, and that they leave my presence with a hope for the future whatever that looks like. That they can achieve what they want to achieve."