ATHLETE OF THE ISSUE: MOLLY O'BRIEN
June 15, 2021
      As the offense moves the ball down the field, Molly O'Brien, 12 tracks it down and intercepts a pass. Quickly pivoting, she runs towards the goal. At the right moment, O'Brien plants and slings the ball in the top right corner of the net. She is greeted by her cheering teammates on the field and from the sideline.
      Being a midfielder, O' Brien is trusted with the job of defending and creating scoring opportunities for the team.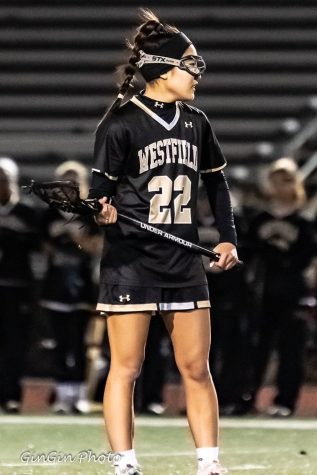 O'Brien is from Herndon, Virginia, and was raised in a family of lacrosse players. Two of her three older brothers played lacrosse which heavily influenced her to join as well. O'Brien's parents encouraged her to be involved in sports from a young age. She joined the CYA lacrosse team in first grade. Alongside lacrosse, O' Brien also plays Field Hockey and was a part of the 2017 State Champion team her freshman year.
      She has played midfielder on varsity for all four years at Westfield. A position that is physically demanding where she has to switch between offense and defense. This requires committed training during the off-season consisting of cardio to build up endurance, weight training, and intensive stick work with her club team.
      "My in-season training is a lot less cardio since I am running constantly during practice so I usually maintain the weights in the season but not as much out-of-play cardio," explained O' Brien.
      O'Brien's commitment has resulted in multiple accolades from First Team All-District and Region to being named MVP on the team. She is respected for her diligent work ethic, enthusiasm for the game, and supportive nature. This season, she was named one of the captains. A role she has grown into. 
      "Molly has brought a lot to our team especially as a captain. She keeps us all hype and coordinated as a team. From working our plays and calling them to giving constructive criticism on what we all need to work on. My favorite thing about Molly is her spirit, she constantly is rallying practices. She also starts our cheers and just keeps a competitive level of fun at practices," said Kate Hanger, 11.
      By the fall of her junior year, O'Brien had committed to Radford University. She was recruited as a midfielder and attacker for the Highlanders.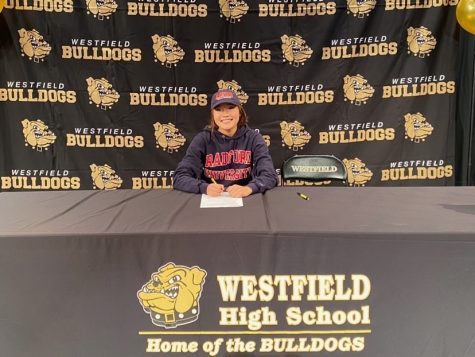 "The recruiting process was really exciting and fun because I got to visit a lot of colleges and make connections. It was also a little stressful because in lacrosse we commit before our senior year even starts, but I decided on Radford because of the coach and the team. Those were major aspects of picking the school. I also loved the school itself, the location, campus, and size- everything was the perfect fit for me," stated O'Brien.
      Looking forward to her collegiate career, O'Brien's goals are to start her freshman season and to win at least one conference championship. Off the field, she will be spending her time studying Education and Psychology. She is most excited about making new friends on campus and having greater independence. 
      When asked what she will miss most about Westfield Lacrosse, O'Brien said the excitement of competing with her teammates in the postseason. Her team-oriented mindset and drive to improve are revered by all the girls and coaches.
      "Molly has a lot of love for the sport. Molly knows the right time for humor, but also when it's time to work hard. She likes to compare plays and strategies to different college teams to try and incorporate a higher level of play. Since she committed to playing at Radford, I feel her enthusiasm for personal improvement has helped push the team to improve as well. She's a talented athlete and we wish her the best of luck in her college career," said Kelsey Feathers, Girls Lacrosse Head Coach.