TEACHER OF THE ISSUE: SCOTT WULTORS
June 15, 2021
      In the R-hall of the math department, its double doors open up to room R-122, Mr. Wultors' class.
      Filled with years of colorful math projects by students with sprinkles of his Virginia Tech spirit, R-122 has easily become one of the most welcoming environments for students at Westfield.
      Since his arrival in 2007, Scott Wultors, Math teacher, quickly became a favorite amongst his students and an instrumental part of the math department. 
      "Mr. Wultors brings humor, intelligence, and new ideas. He is willing to try something new if he thinks it will benefit his students. He is a good role model for other teachers in our department and the school," remarked Christy Jenkins-Dietz, Math teacher.
      "Mr. Wultors is the first Math teacher to arrive every morning at school. He brings a passion for Mathematics. Not only is Mr. Wultors a great Math teacher, he's a great team player always contributing and helping other teachers in our department," said Julie Keeder, Math teacher.
      Wultors grew up with his family in Sutherlin, Virginia about ten minutes from the Virginia-North Carolina state border. Math has always come naturally to Wultors. He went to Kentucky Elementary, Dan River Middle, and Dan River High School. Growing up, he never got lower than an A in math. Every year in high school, he won a math award. Senior year, he received the Senior Math Award honor for his graduating class.
      "What I love about math is that it can be used either directly or indirectly in everyday life. You can see how most of the concepts can be applied to real life. Especially when teaching calculus, I try to relate some of the lessons to areas in life that use it and why," expressed Wultors.
      Even though math came naturally to Wultors, he never planned to become a Math teacher. At Virginia Tech, he initially majored in Mathematics then switched to Chemistry halfway through his junior year. Following graduation, he spent three semesters as a graduate teaching assistant for freshman Chemistry. This fostered his passion for teaching, so when a friend told Wultors about an open teaching position at Yorktown High School, he jumped at the opportunity. 
      Throughout his teaching career, Wultors has taught a myriad of classes from Algebra 1 and 2, Geometry, Pre-Calculus, Discrete, Trigonometry, Calculus AB and BC to Advanced Chemistry. Regardless of the subject, the students remain his favorite part of teaching: "I love being able to work with my students and help them learn math while still getting to know them and letting them know I support them in whatever they do. They are the best part of my job!"
      Dealing with the struggles of hybrid learning faced by teachers alike around the country, Wultors stayed committed to providing the best education for his students.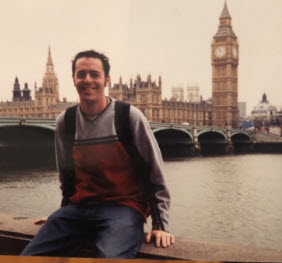 "Mr. Wultors is my favorite teacher because of how kind and supportive he is. He does everything in his power to provide materials, sit down individually with us, and do anything else that is needed, such as providing lesson keys so that we can be successful in the course," said Alexa King, 12.
     After school, Wultors spends his time as a sponsor for the Graduating Class of 2023, Math Honor Society, Medlife Club, and Math Olympiad all while working towards his graduate degree in Instructional Design and Technology. Outside of school, his favorite thing to do is travel. His first trip at 21 was to Hawaii. Since then, some other places he has gone to are Italy, England, St. Thomas, Mexico, Aruba, Madrid, and Prague.
      As Wultors reflected on his time at Westfield, the community atmosphere is what he admires most.
      "I love the sense of community Westfield has among its students and staff.  I feel like we are a huge family here and a lot of my best friends are teachers here. I feel as though the students are comfortable reaching out to the staff as well," remarked Wultors.