AMERICA'S RACIAL DIVIDE: WHAT IS FCPS DOING TO BRIDGE THE GAP?
May 3, 2021
        What began as a typical game of high school football, became a hostile environment triggered by racist behavior from athletes of one school. On April 5, a game between Robinson Secondary School and T.C. Williams High School resulted in the use of racial slurs and spitting aimed at a T.C. Williams athlete. With only minutes left in the game, the T.C. team left the game, demonstrating an unwillingness to tolerate mistreatment and racist behavior. 
        What seemed to be an unusual occurrence in Fairfax County, shifted when the same event happened at both a Marshall versus Wakefield game as well as a Justice versus West Springfield football game.
        Such experiences have led to the movement #PlayFairNow which has spread across various social media platforms. 
        In an effort to relieve tensions, Scott Brabrand, FCPS Superintendent,  released a letter to members of the community stating, "Our school division embraces diversity and strongly condemns hate speech and offensive, hateful language or racial intolerance of any kind on the sports fields, in school buildings or anywhere on or off school premises. We will hold anyone found to have used such language while representing any of our schools accountable for their words and actions."
        Racial divisions have generated a national spotlight in recent years after the deaths of George Floyd, Breona Taylor, Elijah McClain, Daunte Wright, Ahmaud Arbery, Xiaojie Tan, Daoyou Feng, Delaina Ashley Yaun Gonzalez, Paul Andre Michels, Soon Chung Park, Hyun Grant, and Suncha Kim.
        These victims lost their lives to police brutality and anti-Asian sentiment. Some leaders and commentators have argued that the atrocities were heightened by former president Donald Trump's inability to relieve such tensions and propose solutions.
         "It's a state wide problem, it's a nationwide problem," said Karla Bruce, Chief equity officer for Fairfax County Government, in February.  "Some of these systems, policies, and practices that we're trying to address are things that are outside of our control in some cases." 
        Former President Trump consistently labeled Black Lives Matter (BLM) protestors as "thugs" and "terrorists" while referring to the January 6 rioters as "very special." In one of his famous tweets, he called the BLM organization a "symbol of hate." In addition, the former president continually referred to Covid-19 as the "Chinese virus."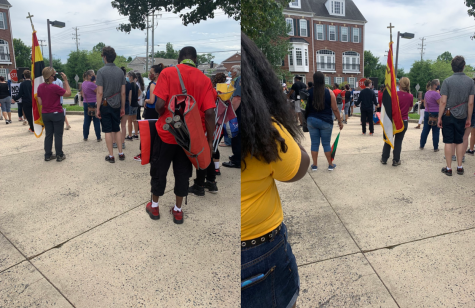 Prior to his presidency, Trump was seen in photographs with his parents dressed in Ku Klux Klan uniforms. In 1989 he pushed for the execution of Cental Park Five, a case in New York where five boys of color had been arrested due to a rape allegation which they did not commit. The oldest out of the five boys was 16 years old. 
        As one dives deeper into racial division in Fairfax County and beyond, such situations have also been reported here at Westfield. The question is, what is Westfield doing to combat both racism and equity issues?
        During the 2019-2020 school year, what was supposed to be a week of inclusion shifted into controversy. 
        "Yo prometo lealtad a la bandera de los Estados Unidos de América, y a la República que representa, una Nación bajo Dios, entera, con libertad y justicia para todos."
        These words were once projected out of the school intercom system by then-Principal Anthony Copeland; it was the pledge of allegiance recited in Spanish. The recitation caused backlash from some parents who claimed this action as inappropriate. The controversy received coverage in news outlets such as the Washington Times and Fox News.
        These news outlets interviewed parents of the Westfield community including a mother by the name Stephanie Somers who claimed, "It's inclusive, it's making them proud of their heritage and their ethnicity," she stated. "So I was surprised instead of continuing it, they were nixing it and an apology. Didn't seem right to me."
        In an effort to provide exposure to other cultures which would aid in teaching students and staff the importance of cultural sensitivity, the DiversifyFCPS organization works towards diversifying the English curriculum throughout the county.
        DiversifyFCPS is a student-led organization that advocates for implementing a curriculum that showcases authors of colors and loosens curriculum in that teachers and students have a say in what they are teaching and being taught.
        "A lot of people in the Westfield community confine themselves to their socioeconomic sphere, which is why hearing authors from different parts of the world is eye opening because it exposes one to different perspectives and experiences," reflects Alina Saiyid, 12. 
        Saiyid, who is part of this initiative, participated in a meeting with the Westfield English department. As a representative for this organization, teachers were able to gain insight with a single meeting through Saiyid and members of this group to advocate for adding variety in the choice of literature taught at Westfield.
        "I was thrilled to have the students from DiversifyFCPS speak at our department meeting.  It is so important to hear from students, and this was an opportunity for them to speak to something that directly affects their education.  Diversity in the books we choose to teach is important and I was excited to see students holding our feet to the fire," reflects Kevin Laub, English teacher.
        Resources such as https://www.commonlit.org/ have been made in order to aid teachers in diversifying their lesson plans.
        Furthermore, "In 2019, all FCPS high school English departments were charged with making sure that their bookrooms represented a diverse set of voices.  I am proud that our department continues to choose books where all students can see themselves in the literature of the classroom."  He went on to say, "Teams are now discussing what the core works are that all teachers will teach, which sends a strong message to students about what voices we amplify and what voices get left out.  And when I was able to place an order for more books I made sure that we were telling many diverse stories, and not just the stories of one group," explains Laub.
        Such initiatives have been amplified through diversifying the history curriculum as well.
        FCPS and Westfield are trying to bridge the divide by creating an African-American history class. There have been many cases where African-American history has been ignored because it is labeled as "too violent" or "too difficult" to understand due to media representation. A viewpoint that was voiced by FCPS middle school history teachers.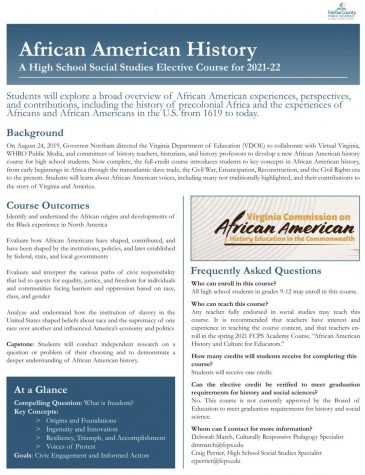 The African-American history class is said to teach African-American origins, how African-Americans have been shaped by society, what equity looks like in the justice system, and how racial supremacy affects people. 
        "What I really love about it is it's not just going to provide far more context for African-American history, but it's also going to let us celebrate the heros of African-American history that are normally overlooked," opined Gretchen Snyder,  Social Studies Department Chairperson. 
        The class curriculum is still being developed, and there have been new jobs created within FCPS to accommodate the planning and instruction. 
        Due to positive reception to the addition of this class, possible additions may be integrated into schools; this includes a class that teaches Asian history and one that teaches Latinx history. 
        Within history courses, there have been discussions about altering particular lessons so that the resources come from a diverse group of people. Whether it's diversity in age or race, students would have access to well rounded views regarding historical eras. 
        "There have been perspectives that have been missing from the curriculum a lot. For example, young people. We don't often see the role of teenagers in historic events, something that our students can connect with. Minority groups, religious minority groups, ethnic minority groups are not always represented," Snyder noted.
        Saiyid remarked that "active discussions about current events and race should be integrated in the curriculum." 
        Although the battle for minority representation in various curriculums continues, Fairfax County has created initiatives regarding instruction on religious holidays. The county has issued new policies that halt new instruction and assessments on religious holidays such as Ramadan and Yom Kipur. These efforts have been as a result of addressing cultural equity, in that students and staff of various faiths are being acknowledged for their religious practices. Although this policy has aided students in avoiding missing new curriculum due to religious events, criticism across the county has been made because it affects instruction. Such discussions remain, and the efforts of cultural equity are still being addressed.
        "I know that we still have work to do, and these students reminded us of that fact…I encourage all students to have conversations with their teachers," said Laub.