CLUBS ADAPT TO CHANGE, LEADING TO SUCCESS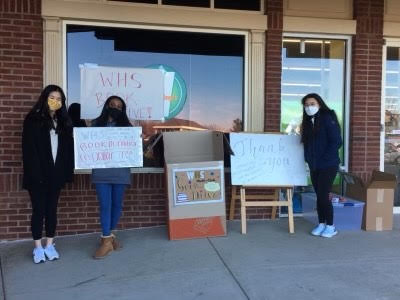 Westfield clubs have still been able to host their events and activities, even with the many challenges they faced during the pandemic. Two clubs that have had successes during these challenging times are Pre Med Club and Beta Club. Lara Zanotti,12, is the Beta Club president and Huzaifa Shafique,12, is the Pre Med club President. There are a little over 100 members in Beta Club and about 95 in Pre Med Club, so because of the large number in each club they have gone through many changes to be successful. 
          "We've adapted to distance learning by orienting most of our club meetings around guest speakers, as a virtual environment enables us to conveniently invite notable medical professionals from all over the nation" Shafique reflects. 
          The Pre Med club meets virtually every month and the officers of the club do all the preparations for the meetings, including scheduling the guest speakers. 
          Karen Bendorf, Pre Med Club sponsor, explains, "It is harder to get guest speakers to come physically into school and talk, so this has been very helpful."
          The Pre-Med Club hosted a Nurse's Snack Drive. One of their guest speakers was a nurse, and after listening to her they all realized how hard nurses have been working during this pandemic they wanted to do something in return. Pre Med partnered up with three other Westfield clubs to be more successful in this drive. They set up a few boxes at a certain location for the food to be collected. This drive was very successful resulting in having enough food to be delivered to eight different "wards" in the hospital.  
          One change for Beta club is how they can't meet up and do service projects together like they would normally do. They have found ways to do service though, whether it's virtually or individualized projects, they are getting community service done. 
          Beta Club has had many accomplishments this year with their events they have hosted, but there is one that did exceptionally well. That event was the WHS Unity Garden Project. This project was made to bring the community together, which is what it did. For this event the officers had to find stakes and garden bulbs that fit the budget. Then, they had to organize how the members would pick up those materials in a safe way. The members were told to plant the bulbs anywhere but their own garden, so that they could bring the community around them together.
          "We'll see how the results turn out in the spring." Zanotti expressed. 
          Another great thing about this project was that Beta's Service Snapshot team created a presentation and gave it to a competition in November's BETA Leadership Summit. They became state finalists and will go on to compete at a national level. 
          Beta club also participated in a book drive called "One Book for One Ethiopian" that was started by Naomi Tekola,11, a member of International club. 
          "A lot of developing countries around the world, such as my native country Ethiopia, have a very low literacy rate." Tekola expresses. 
          The purpose of the book drive was to collect books and donate them to schools in Ethiopia that need them in order to give their students access to quality education and eventually raise the country's literacy rate. To have a successful book drive International club partnered with many Westfield clubs such as, BETA Club, Key Club, English Honor Society, Unicef, and the Global Issues Outreach Club. With this drive they were able to raise almost 5,000 books to donate to the schools in Ethiopia. It was a challenge of planning, organizing, and communicating because of the pandmeic and certain restrictions, but with all the service clubs coming together, it was a successful event. 
          Another thing about this project is that an Ethiopian-Amiercan student passed away unexpectedly last year. His name was Beruk Kasa, and with the permission of his family, they were able to honor his memory through this project making it even more meaningful. 
          These clubs are just some at Westfield that have had to adapt to many changes, but are still able to get things done and be successful. 
Leave a Comment