ATHLETE OF THE ISSUE: GABBY REED
February 25, 2021
      Driving up the court, Gabby Reed, 12, powers through Centreville's defense, scores the layup, and gets an and-one, extending the Bulldogs' lead to 10. Reed went on to score 13 points in the first half, putting the game away early and helping the team win 55-34, ensuring their district seating. 
      Although a shortened season with less team bonding and social distancing due to COVID proved to be a challenge, Reed led the Bulldogs to a winning season this year. As the leading scorer, Reed was awarded for her play, being named to First Team All-District and Second Team All-Region.
      "Gabby always brings great energy to the court," expressed teammate Stephanie Ghyzel, 12. "She always goes out and gets it done. She's a great leader that brings everyone else on the court up to her level."
      Reed has been playing basketball for 10 years now. She began playing house basketball in her local neighborhood. Due to that enjoyable experience, she enrolled in an AAU team, then played for Westfield's Varsity Girls' Basketball team since her freshman year.
      "Basketball has been such a learning experience for me over the past 10 years. You learn how to get back up from mistakes and how to grow from every experience, so it's taught me a lot about how to deal with situations outside of basketball, too," Reed reflected.
      Throughout her high school career, Reed has grown both physically and mentally as a player. Physically, she has become stronger, and has had to adjust her position on the court. She came in freshman year as a post, but began to play as a guard her sophomore year. By junior year, she was playing as a point guard, a transition which has facilitated her growth as an overall player and threat on the court. 
      Mentally, as she has been a starter and captain since sophomore year, her time at Westfield shaped her leadership capabilities: "I feel as if I've grown as a leader on and off the court, supporting my friends, family, and people around me — it's just made me a better person in general."
      "Gabby always encourages everyone to do their best even if she isn't having a great day. She'll run sprints with you if you don't finish on time, tell you open spots to look for, and just motivate you 100%. She continued to push me even when I didn't believe in myself. She's the person I look up to and she showed me what a true leader looks like," remarked Bella Bruce, 10.
      Reed draws motivation for basketball from looking to professional icons like Kobe Bryant, Lebron James, and Stephen Curry: "Watching them talk about work ethic and time that they put in to be the best player that they can be pushes me to exceed my limits, always work hard at my craft, and never settle for anything less."
      Another factor that drives Reed to be the best she can has been playing with her sister, Brooke, a junior, for the past three years. For Reed, this experience is unmatched: her and Brooke know each other's strengths and weaknesses, and therefore can guard each other effectively and provide enough pressure to make each other better players.
      "Playing with her is so cool because I'm not afraid to say something to her and she's not afraid to say something to me," explained Reed. "We both have this mutual understanding of the game and that we're here to have fun and make each other better."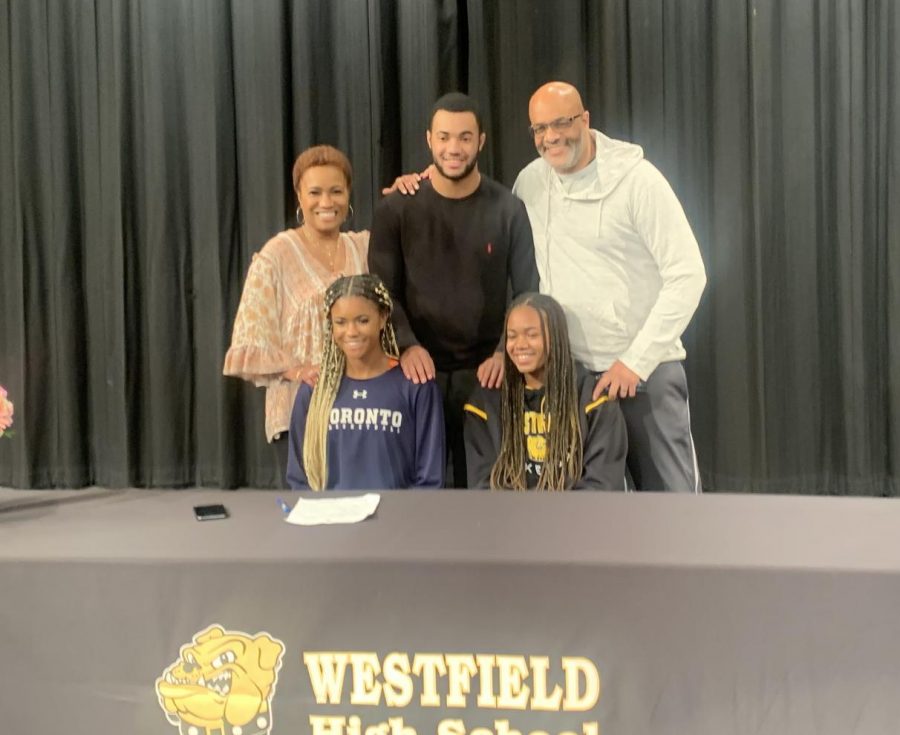 During this season, Reed committed to play basketball at the University of Toronto. Playing in college had not always been in her plans; however, after joining AAU and receiving guidance and support from her coaches, teammates, and family, she is sure that this is the right decision for her and cannot wait to be a Varsity Blue in the fall. 
      "College can be very scary, and coming into a supportive environment like a basketball team is going to be so much fun for me, and it will keep me motivated in going," said Reed. She is most excited to form a bond with her new teammates and create a home away from home.
      An important aspect of Reed's basketball experience has been her teammates. While there is a perception that lots of public school basketball teams are riddled with drama, Reed has found her team over the last four years to be completely drama free. She cites her teammates' maturity, mindsets, work ethics, and ability to have fun and joke around as motivators, saying that the positive environment they've created has made her the player she is today.
      "I hope I leave this program with positivity and joy for the game. I think sometimes players get caught up with challenges that they face and they forget why they started in the first place. I just hope that I left a lot of reminders that basketball is a game of fun and enjoyment and a place where you can surround yourself with people that only want you to do great things," Reed concluded.