WORTH WATCHING: THE QUEEN'S GAMBIT AND BRIDGERTON
      Netflix has been killing it with so many new movies and television shows in these past months. Two new blockbusters, Bridgerton and The Queens Gambit have generated quite a buzz. The new shows have been ranked among the U.S top 10 most watched shows since their release. 
Brigerton: A tale of frenemies to lovers
      As she enters the ballroom in search of an eligible husband, all eyes are on Daphne. While she dances with many men, no one in particular catches her eye. That quickly changes when Daphne runs into an old friend of her brother Anthony: Simon, the Duke of Hastings. Their relationship starts off as a mutual agreement, but a passionate love quickly takes over.
      Bridgerton was released on Christmas Day 2020. The series takes place in the early 1800s London. It stars renowned actors such as Phoebe Dynevor, who plays Daphne Bridgerton; and Rege-Jean Page, who depicts Simon Bassett. It is narrated by Lady Whistledown, also known as the one who runs the gossip paper. This unknown person is aware of everyone's secrets. Narrated by titillating gossip, the show is told in an attention grasping manner. The show was created by Chris Van Dusen. It contains eight episodes, thus making it less difficult to commit to.
      The year 1813 was part of what is known as the Regency era in England. Women wore beautiful "silk gowns rendered in ice cream pastels, acid-bright florals, acres of ruffles, rhinestone-encrusted puff sleeves and wigs…,"as described by Vogue Magazine writer Radhika Seth. The mastermind behind the breathtaking dresses is Ellen Mirojnick, an award winning costume designer.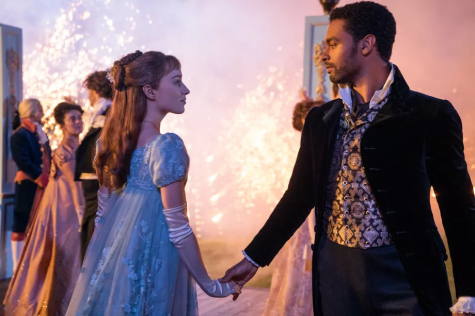 One of the most memorable aspects of the show is its music, known as Bridgerton covers. The soundtrack includes covers of famous songs like Ariana Grandes' "Thank u next," Billie Eilish's "Bad guy," and many more. It uses the melody of the popular song and adds a classical twist, making it appropriate for the show's era.
      "It was interesting to see how women or really anyone who wasn't a wealthy male was treated back then," stated  Shiva Karkehbadi, 10.
      Like most of the world during the time, women were treated significantly unfairly. Bridgeton conveys the era's sexism throughout the entire show. Society was hypocritical towards what women can not do, while men did it openly. The show mainly focused on this aspect by showing the difference in remaining pure between men and women before marriage. Daphne partakes in a behavior her brother Anthony has been doing in secret. Thus almost causing her and her family's entire reputation had not anyone found out.
      From main characters to background characters, Bridgerton portrays a racially diverse society in which people of color enjoy high privilege. Queen Charlotte, the Duke of Hastings, and many more characters were people of color. The amount of diversity was pleasurable.
      "Honestly, this is a fabulous show and I am so happy it got renewed for a second season!" exclaimed Rebecca Darr, Science Department.
The Queens Gambit: From an orphan with an unrealistic dream, to the chess world champion
      "Checkmate!" These are Beth Harmon's favorite words. She has competed in cities and widening her tournaments across the globe. Who was this girl ruthlessly defeating famed champions with nerves of steel?
      The Queen's Gambit was released last fall, and takes place during the late 1950s and 60s. Anya Taylor-Joy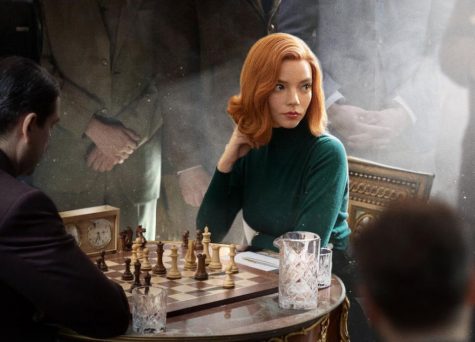 plays Beth Harmon, the main character on the Netflix limited series. The show starts off with Beth Harmon, age 9, placed into an orphanage after her mother's death. The show was created by Scott Frank and Allan Scott. The series contains seven episodes making it easy to commit to.
      When Beth arrived at the orphanage pills were originally given to the orphans to restrain them. This is where the pills are used to Beth's advantage. Growing a strong liking of the game, Beth begins to play it in her head. These pills help Beth focus better as well as playing a huge part in her outstanding chess skills. This idea of the pills being the only way she can be good at the game gives off a negative example of nonprescribed pill usage. Young Beth Harmon is introduced to chess by the orphanage janitor.
      Finally, after Beth is adopted, her passion for chess has now grown bigger than ever. As she got older, she competed in many chess tournaments. What started off as practicing with a friend, has led to her competing against other countries. 
      Depending on where Beth's next chess tournaments took place, the setting changes throughout the show. Given it took place in the 50s and 60s, women were not expected to compete in such events. Beth encountered questions, but it never stopped her from pursuing her passion.
      One caveat is the film's depiction of a person who is wildly successful despite being addicted to drugs and alcohol. Beth competes in tournaments drunk and on drugs. Despite not being the right mental state she somehow manages to win. This issue conveys a false example of being able to succeed while intoxicated.
      Is the show worth watching? Is it even good enough to recommend it to others?
      "I would.  Everyone is watching it, so you have to sort of keep up with the world conversation, you know?  It's called cultural awareness.  But I also think the show is very well done, totally watchable, and centers on something that most people do not know a lot about, which is the world of competitive chess.  The entire thing is only five or six episodes too, so it's not a huge commitment," stated Gregg Greentree, Film Studies Teacher.
      Despite the bias when associating a game like chess to fashion, the Queens Gambit had Beth Harmon dressed in casual yet fierce outfits.
       "My favorite thing about it was the period style elements, like the clothes and the home décor. The main character looked so great in a lot of cool retro outfits," opined Greentree.
      Both shows have been rated for a mature audience. "Some of the scenes are kind of explicit though, so I would say 12+," claimed Karkehbadi.
      The Queen's Gambit and Bridgerton have hit high on charts as well as ranking amongst the top ten most watched on Netflix. Both bring excitement, drama, mystery, and some romance during quarantine, with a historical twist.  The two Netflix series are worth watching if you are interested in the aforementioned genres!
Leave a Comment