ALL THAT RACKET: KIDS POSE CHALLENGES DURING DISTANCE LEARNING
The Sane Asylum examines a topic relevant to mental health and human relationships– a breakdown of some common challenge to our sanity.
      In a recent post to her Facebook page, Nikki Warren, English teacher, joked about the challenges of trying to teach virtual classes with three young sons constantly creating a racket in the background.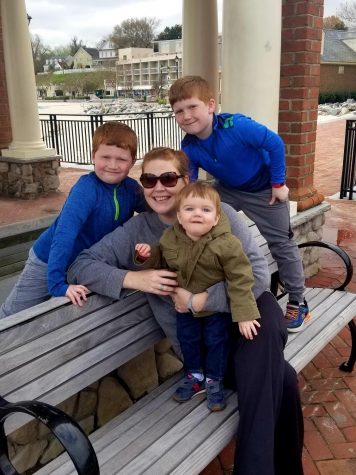 Warren's post read, "Just made some tutorial videos for my AP Lang students, complete with sound effects such as 'nightly bath time chaos,' 'impatient child knocks on closed door,' 'arguing siblings,' and 'yelling husband.' Pretty fancy, I know." The teacher added a hashtag: "#YouTuberIamnot."
      Warren is mother to three boys: Teddy, 7, Charlie, 6, and Ben, 1. Virtual teaching, she reports, forces her to perform something like somersaults throughout her day: "In normal circumstances, I have more physical and mental separation: I can put one half of my responsibilities (and their attendant worries, plans, logistics, etc.) on a shelf and do my thing in the moment, whether it be teaching an AP Lang class or lying on the floor playing dinosaurs and trucks. In the teach-from-home situation, I constantly find myself having to switch between teaching and parenting, and it's physically and mentally exhausting."
      Many teachers and students alike can relate to Warren's struggles. Anne Schaad, 10, has five younger siblings, ages 5, 6, 8, 11 and 14. 
      "The major challenge we face as a whole is keeping everybody in class, especially when they'd rather play video games or go make the biggest stack of pancakes possible," Shaad remarked.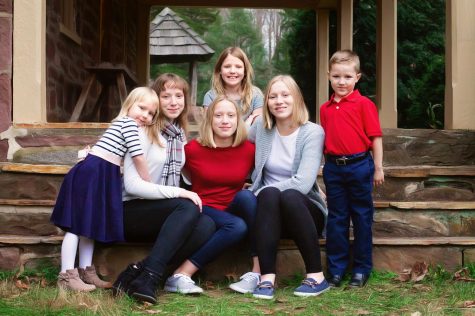 Even one younger sibling can make virtual school trying. As I am writing this article,  my two year-old sister Avyana is running around while watching kids' shows. Sometimes she comes up to me and tries to climb into my lap to see what I am doing, distracting me from my work.
      Breanne Morton, math teacher, recalled, "Teaching virtually while also trying to make sure my daughter (in second grade) is learning virtually was extremely difficult at first."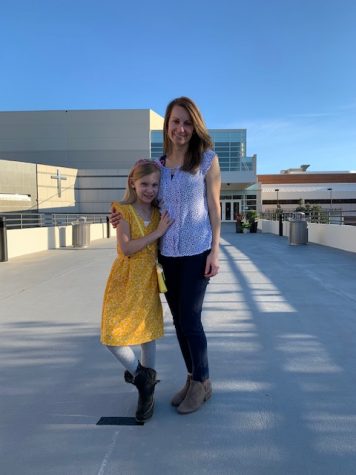 Sometimes Morton gives her students a short break so that she can run upstairs to help her daughter with tech issues or questions about content. Morton remarked, "My students are amazing about interacting with my daughter when she is on breaks. I feel like my students know my daughter pretty well and my students often tell me that class is more fun because of my daughter." 
      With millions of students participating in virtual learning since the pandemic closed schools, childcare experts have been offering tips on managing the littles wreaking havoc in the background. 
      Tiffany Barnhard, FCPS Behavioral Health Specialist, suggests providing planned activities to engage them: "It's important to plan out distractions for younger children while virtual learning. You could give them games or puzzles to try and limit screen time and have them engaged in mental exercises instead."
      CommonSenseEducation.org, a website for parents and educators, offers an entire page with "tips and tricks for distance learning." One tip involves engaging a young child's imagination through a bit of play acting: "Little kids feeling at loose ends might respond to some role playing. Cast your kid in the role of work partner, teacher, or researcher to help them stick to a task (and let you stick to yours!)"
      Teachers and students all have their struggles during this pandemic, especially when there are young ones involved. Creativity and understanding are clearly key factors in keeping everyone sane during the remaining weeks or months of this health crisis.
Leave a Comment