'TIS THE SEASON TO BE COVID-19
As the snow blankets the ground, and the temperature begins to fall below 30 degrees Fahrenheit, she packs her suitcase in preparation to visit Florida's warm sun and beaches. As she drives towards the beaches, the change of evergreens  become palm trees. This year, the one thing she never would expect alters her holiday traditions; it is the COVID-19 Pandemic.
"I usually celebrate Christmas by spending time with my family. Typically this looks like taking a road trip down to Florida, we have done this the past 6 years and has become a tradition," stated Zoey Kim, 10.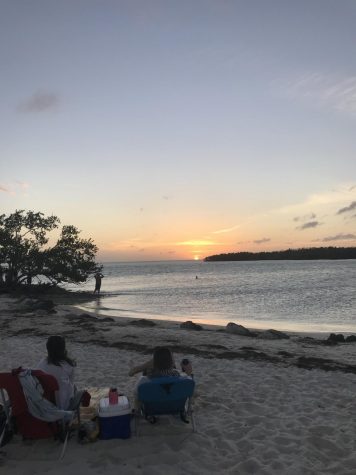 Since the beginning of the COVID-19 Pandemic, cases in the United States have surged up to 15 million . Due to celebrations like Thanksgiving, the number of cases spiked due to relatives visiting their families. The festivities of the holidays have now been a contentious issue; should the public celebrate as they please and accept the risk of contracting the virus, or should people stay home and deal with a not so happy holiday?
Experts, like Dr. Anthony Fauci,  have advised people to "have to do the kinds of restrictions of things we would have liked to have done, particularly in this holiday season, because we're entering into what's really a precarious situation."
This statement stresses the severity of the spread of cases. According to the Centers for Disease Control and Prevention (CDC), it is reported that more than 9 million people had travelled during Thanksgiving which had only contributed to the increase of deaths and cases.
"Normally I believe social gatherings through the holiday season is a great way to celebrate; however, through our current circumstances I believe social gatherings should be put on pause. This is so that we can protect others as well as ourselves and do our part in stopping the spread of the virus," opined Kim.
Although Kim would rather celebrate Christmas through spending the day at the beach and watching the sunset, she and her family have decided to cancel their annual Christmas festivities in order to keep her loved ones safe.
"Even if the state does not give some guidelines, I think each family should take responsibility by cutting out large gatherings or even innovating new ways to be social through this time," asserted Kim.
Alternatives to such festivities include Zoom dinners, shipping gifts out rather than delivering them yourself, and wearing masks and social distancing with no more than 10 people.
Although travel may be a reason holiday traditions may be disrupted, another reason is for the sake of a family member's health.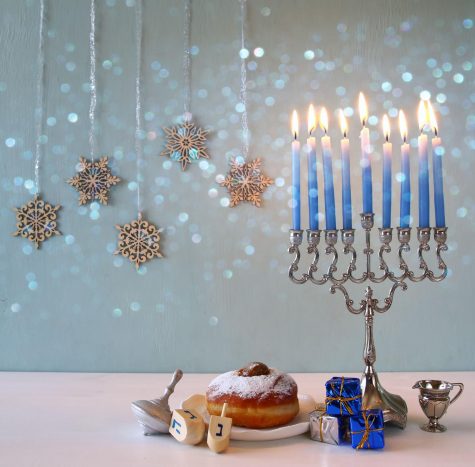 "My aunt and uncle are high risk for COVID-19, so won't be able to celebrate together this year; it doesn't feel right," reflected Kayla Kucaric, 12. 
Kucaric typically celebrates Hanukkah during the holiday season with her cousins by going to her uncle's house for brunch and opening gifts. Although COVID-19 may have physical repercussions on someone, isolated holidays may affect one's mental health.
COVID-19 has taken a toll on the mental health of peers due to the isolation caused from quarantining and social distancing. Such regulations have caused an increment in the number of patients diagnosed with anxiety or depression.
"Social gatherings during the holidays are supposed to be a time when people who don't see each other often can catch up. I think especially during a pandemic we want to be comforted by friends and family; it's hard to be isolated during the holidays. A lot of people struggle during the holiday season and this year it's worse because social gatherings aren't safe anymore," reflects Kucaric.
COVID-19 has not only affected holiday traditions from a familial standpoint, but also a cultural one. Westfield staff members like Maria Ferkova, Spanish teacher, who is from a multicultural background, have already seen the effects on her holiday celebrations.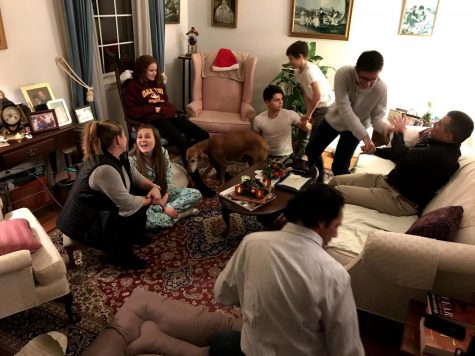 "I have a very multicultural family.  I grew up in a Spanish-speaking home because my mother is Bolivian, and my husband is from the Slovak Republic.  I lived in Bratislava for six years and, in fact, my two older sons were born there.  So for the winter holidays we keep traditions from both Latin America and from central Europe."
Throughout the month of December, Ferkova has many traditions such as Mikulaš, a Christian European holiday.
"On the evening of December 5th,  children leave their boots in the window overnight and Mikulaš, which is Saint Nicholas, leaves candy in the boots if the children have been good!  Even though our kids are older now, we still keep this tradition," explained Ferkova.
In addition to her European traditions, Ferkova embraces her latina identity by celebrating Bolivian style as she likes to phrase it. 
"On December 24th, we celebrate Bolivian style!  The extended family gets together at my parents' house and we have a big family dinner every year.  My mother prepares Spanish paella, and we all bring other food to share," mentioned Ferkova.
After returning from mass, Ferkova unwraps presents with her family which she has done since childhood on "La noche buena" also known as Christmas Eve.
While Ferkova would rather spend her Christmas with her family and continue her traditions, her plans have been altered for the sake of her elderly parents' health.
"My family decided seeing each other isn't worth it, mostly because we need to consider our elderly parents' health.  Instead we will all celebrate at our homes and connect virtually to share time together."
Ferkova believes large gatherings are not a good idea considering the number of cases and deaths has increased tremendously. The way to approach these obstacles are to continue following CDC guidelines for the benefit of everyone
COVID-19 has continuously affected many customs such as religious ones including annual faith camps.
"I celebrate Ramadan and Eid; however, I do not celebrate a December holiday. During winter break, my family and I go to a religious winter camp for a week," stated Sara Altarazi, 11.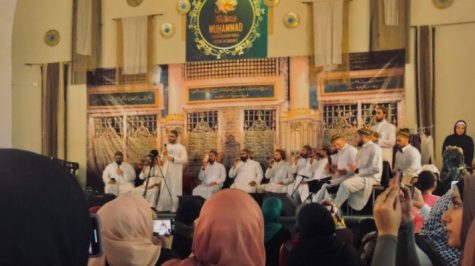 The pandemic has affected weekly services or religious events. For this reason many have resorted to virtual ceremonies over platforms like Zoom. In terms of family events and dinner, this may vary depending on the family. 
"The most efficient way is to invite a few friends or family members over for dinner. It is less dangerous than a larger group and is more realistic," opines Altarazi.
While holiday traditions are enjoyable moments of the year, it is crucial people take the precautions in order to lessen the amount of COVID-19 cases. It is recommended to put traditions off for the year for the sake of one's health. And as YouTube family medicine Dr. Mikhail Varshavski states, "Stay happy, but also healthy."
Leave a Comment