TEACHER OF THE ISSUE: CHRISTY JENKINS-DIETZ
November 2, 2020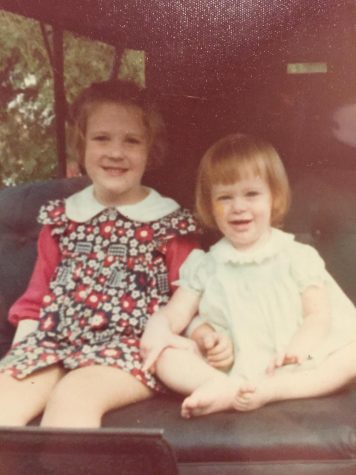 Room R113's entrance is a crevice that opens to a world of acceptance and collectiveness. Rarely locked, the room invites wanderers and travelers alike. Upon entering, students always glance at the back of the class, where Christy Jenkins-Dietz, Math Honor Society sponsor and mathematics teacher, sits with a welcoming smile and a motherly pair of eyes. 
      Jenkins is from Milton, Delaware, a town with a population of less than 2,000. Raised by a band-directing dad and stay-at-home mom, and surrounded by a neighborhood of teachers, Jenkins grew into the education field. Despite that, both of her parents encouraged her to attend college and gain experiences outside of teaching. 
      "My dad wanted to make sure I knew that there were other things out there for me," Jenkins revealed. 
      At the University of Delaware, Jenkins fulfilled her dad's wishes, while simultaneously working towards what she argues she was meant to do: teach. She found jobs in the athletics department (as a tutor and scorekeeper) and the admissions office (database and filing). 
      "As a tutor, I was not only responsible for tutoring, but also for going to athletes' classes and taking notes for them," she explained. "I'd be in some business class, having no idea what was happening, eagerly writing down everything." 
      While in college, Jenkins also became a student-teacher and completed two requisite placements for her K-12 certification. During her training, she reacquainted with a friend from high school, and they ended up marrying by the time she earned her certification.
      When husband number one, as she likes to call him, got a job in the Virginian police force, the couple moved south. Jenkins believes that decision to relocate is still one of the biggest risks she's taken. In fact, her friends, family, and she herself thought that she would live in her hometown her entire life. 
      Her adventurous and daring nature became ever so evident when she committed to staying in Virginia even after her divorce. 
      "Husband number one and I divorced like six, seven years later, and I stayed." Jenkins shared. "That was a huge leap of faith because I stayed here by myself." 
      Her dad was supportive, telling her that there would be far more opportunities in Virginia than where she grew up. Furthermore, he claimed that she would not be satisfied with jobs at Milton. 
      "My dad said, 'Right now, you're happy during the school day, and unhappy in the evenings. It's [the evenings] only like four hours. But if you come here, you're not going to like working, and you're only going to be happy for a couple hours with your friends.'" 
      With her dad's blessing, she continued her residence in Virginia and began her career in Fairfax County Public Schools. The first school she worked at was Mark Twain Middle School and spent four years there. Then, she transferred to Chantilly High School and was there for two years. She met Dale Rumberger, the principal of CHS at the time, and was amazed by his leadership; when Westfield opened in 2000, she naturally followed Rumberger and kicked off her now twenty year journey. 
      At Westfield, Jenkins is known for her sense of humor, brilliance, and most importantly, her unfiltered Fridays. More than that, she is a fascinating, worldly person, which is why her students often confide in her with their troubles.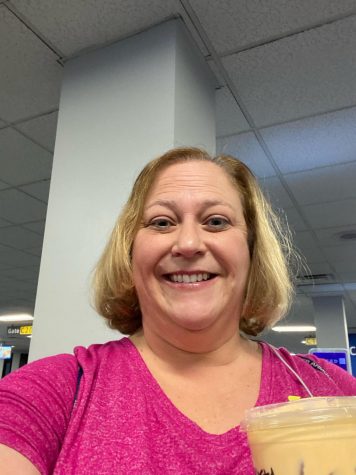 "For me, I feel like the teacher-student relationship has changed from when I was in high school," she recognized. "I feel like I'm closer to my students than I was to my teachers. And I think it's super important for teachers to build that relationship." 
      In addition to relationship-building, the following are factors that Jenkins considers significant to a teacher's success: involvement in the school's community (i.e. going to a field hockey game, sponsoring a club, etc.), adaptability to technology (being able to navigate an increasingly technological society), and acknowledging that the classroom is a shared space (between teachers and students).
      Jenkins emphasized the latter, asserting that there needs to be a change in teachers' vocabulary. 
      "I don't think we, teachers, should be calling classrooms my room because it isn't a single person's room. It is every student and their teachers' rooms. We should be saying our room," she declared.  
      As for students, she regards those who put forward their best effort, are excited to learn, and make the most out of high school highly. She understands high school as an experimental phase, a place where students can start to figure themselves out. 
      In the same way, she believes teachers can also discover themselves and new ideas from their pupils. 
      "I learn something from my students everyday. If I wasn't a teacher, I wouldn't know the latest T.V. shows to watch or music to listen to."
---
Q&A—FURTHER INSIGHT
"What is a unique trait you have that has contributed to your success as a teacher?" 
JENKINS: I want my students to be smarter than me. I think there are a lot of adults who want to be the smartest person in the room. I do not. When you leave me, when you graduate from high school, I want you to be smarter than me. 
"How have your students impacted or changed you?" 
JENKINS: My students change my life everyday. I have so many students that go through things every year. We sit and talk. It changes how I think, my perspective on things. I am constantly inspired by my students' stories.
"What is one thing you would like every high school student to know?"
JENKINS: You don't have to take every honors class possible. Sometimes I feel like kids put so much on their schedules because they feel like they have to take thousands of classes to get into college, but you really don't. You need to take classes you are passionate about. At the same time, you have to be well-rounded. For example, if you like math more than writing, maybe take an honors math class and a standard English class. It's about finding your balance.