BLACK LIVES MATTER: THE PEACE WITHIN PROTEST
     Around 40 people of all races and ages swarmed the streets of Fairfax City. They yelled and screamed, their masks muffling their voices, but not their passion. Every single one of their fists pumped to a constant beat, like a heart–a heart that had witnessed the chains of oppression for far too long. 
     One movement, spreading one message brought thousands of people together from all over the world. That movement educated people on what it was like to be a person of color living in modern day America; what it was like to have their lives not matter. 
     "Black lives matter came out of a protest movement where there were young people who were killed, and people felt like the greater society didn't care about their death," Faye Lavenhouse, chemistry teacher stated. 
     The Black Lives Matter (BLM) movement was founded in 2013, after the murderer of Trayvon Martin was acquitted. The movement stands for the eradication of white supremacy and the inclusion of all people regardless of race. BLM has made efforts to fight systemic racism, defund the police, and educate people. Thanks to the efforts of BLM, we have seen some changes in the way society views systemic racism. 
     Recently, BLM has produced lots of controversy due to claims of extremism. Some people believe that BLM related protests are causing violence in our communities, and that the movement is promoting anarchy. Others believe that the movement is non-violent, and is being labeled violent because it's bringing out the flaws within our country. In reality, the latter viewpoint is truly what the movement is all about. 
     To begin with, the majority of BLM protests have been peaceful. The Armed Conflict Location & Event Data Project (ACLED), a non-profit organization, conducted a study on BLM protests happening throughout the  country. It found that more than 93 percent of the protests were peaceful, while less than five percent were especially violent. In fact, over 2,400 locations reported having peaceful protests, and fewer than 220 reported violent ones. 
     The non-profit defined violent protests as "acts targeting other individuals, property, businesses, other rioting groups or armed actors." This included acts that ranged from throwing rocks at the police, to the hospitalization of either protesters or bystanders.  
     Aside from the fact most of the BLM protests have been peaceful, most of the violent protests tend to have an instigator who is not a protestor. In fact, throughout the BLM protests, many of the protesters themselves have been injured either by other rioting groups or the police, for simply just protesting. 
     During BLM protests in Kenosha, Wisconsin, Kyle Rittenhouse, a 17 year old, brought an illegal semi-automatic rifle in which he used to shoot three protesters. The part that shocked people the most about this particular shooting was the fact that he had conversed with the police, and had been applauded by the media. 
     Police officers had seen Rittenhouse walking around with the illegal weapon, they offered him water and they even patted him on the back for his 'service'. The media painted Rittenhouse as a hero, by placing pictures of him volunteering next to the graphic details of the shooting. 
     According to CNN, another act of violence in this nature occurs earlier in the protests, when two Buffalo police officers were suspended after pushing an elderly protester. Martin Gugino, a 75 year old, was trying to address two police officers, when they pushed him down. Gugino was left on the ground motionless, bleeding from the back of his head. In the video that was published of the incident, police officers just walked over him. Gugino was hospitalized for around 26 days, nearly an entire month. 
     "The people who aren't involved are definitely the ones spreading the violence. I think the concept of black lives do matter and racism is what prompts people to act, people just get so angry about it," vocialized Sophia Cox-Leow, 9.
     In addition to BLM being mostly peaceful and having violent non-protesters, we have seen that although some protesters have committed violent acts, they are vastly less extreme compared to  the acts committed by the opposing group. At a few BLM protests, protesters have thrown objects, set property on fire, and broke into buildings. Evidently, these acts are quite small compared to actions conducted by Kyle Rittonhouse and the two Buffalo officers.
     "If you are a black person walking down the street, are you responsible for that person's perception of you," Lavenhouse hypothesized. "It's not a problem with BLM, they could have a hundred peaceful protests,  have one person say a bad word, and the narrative is 'oh look at them, they're so bad'."
     People not taking responsibility for their actions, and putting it onto other people, is how we got here today.
     Those who condemn BLM claim that these particular protests are attributed to violence. In a recent study conducted by ACLED, they suggest that such "disparity stems from political orientation and biased media framing…" Meaning that people who say these statements, are choosing to solely believe what they are being shown by the media. However, it is a fact that the media may not always display the full-fledged truth, and that they display what they think people want to see. 
     "The news that we see first, or the post that we see first are meant to align with what we believe in general. So I feel like the media is definitely not always showing the otherside," reflected Ayonnah Tinsley, 12.  "People need to take a step back and really research into what these organizations do." 
     Other counter arguments consist of people saying that BLM is racist, because "all lives matter." The president of our country has even agreed with this statement, by tweeting that painting a BLM sign is a symbol of hate. However, the all lives matter argument contradicts itself on many levels. If all lives matter, then why isn't our society upset over the murders of black lives? Say there's a class full of kids, and only one gets hurt; the child who was injured would get a bandage. There wouldn't be a need to give all the kids bandages, because not all of them need it. Black lives are like that one child that's gotten hurt; they need help that others don't.
     Undoubtedly, BLM stands as a peaceful and non-violent movement, trying to undo the strings of systemic racism. BLM is a movement that has brought out issues from within the soil of our country, issues that cannot go unnoticed. As BLM continues to fight for justice, a quote by the late John Lewis comes to mind: 
     "A democracy cannot thrive where power remains unchecked and justice is reserved for a select few. Ignoring these cries and failing to respond to this movement is simply not an option — for peace cannot exist where justice is not served." 
Leave a Comment
About the Contributor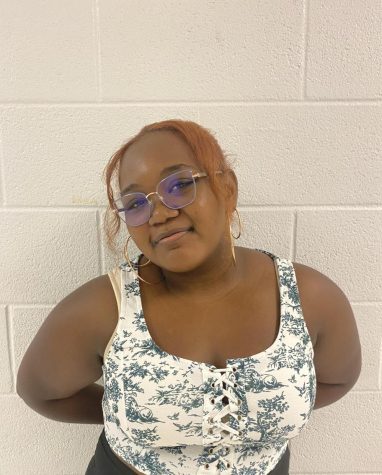 Naysa Piper-Fisher, Co-Editor In Chief
Hello, I'm Naysa one of the Co-Editors of the paper! I love all forms of art and self expression <3