SPORTS UPDATE
      The coronavirus pandemic halted various Westfield High School events, one being the spring sports season. Athletes and coaches alike were disappointed when their season ended before it even began. As the shutdown dragged on, doubts increased about the possibility of any sports for the coming school year. The reopening of businesses and other places as the state moved through phases gave teams hope for their seasons.
      When sports return, they will be different than in past years. There will be new safety protocols,  including social distancing in groups and new limitations on team size. There will be rules requiring masks upon entering and leaving practices. Some sports have had their season pushed back as discussions on the new protocols and rules are still being developed for teams like football and wrestling.
Track and field
      When spring sports abruptly ended, coaches were disappointed they were not able to showcase their athletes' talent. In response to the sudden cancellation, David Groff,  Head Track and Field Coach, stated, "Many spring sports coaches and athletes were devastated by the cancellations because they were looking forward to having successful seasons, and for some athletes, possible recruitments. We will make sure to stay positive and make the most of our opportunities whenever we have them."
     While unsure about the plan for in-person practices, they will definitely be shorter in endurance to reduce the risk of exposure. As of this writing, runners were doing workouts at home. The county has not put out any guidelines yet, in terms of mask-wearing policies and social distancing. Once that information is given out there will be a better idea of how the practices will look for track and field.
Football
      While guidelines for some teams allow them to practice, some have not been able to get together. Many football players trained on their own in substitution of group workouts. 
      "The training has been similar for me and on my own, but as a team, we haven't been able to get together and work," said  Owen Hall, 11, in early October. 
      Recently, the football team has started practicing again with a capped number of athletes. Despite the circumstances, players are still working hard and looking forward to the upcoming season. 
Wrestling 
      Athletes and coaches alike have grown from overcoming the challenges brought  by the pandemic, said Keith Sholders, Wrestling Head Coach.  Sholders remarked, "All of this has and will challenge me to be more creative, smart, and think outside the box."
         Many precautions are in place for the teams to return to play initiative. They have researched and used various outlets from the county/state protocol to major amateur wrestling organizations around the country to make sure the season can happen safely.  
Girls' Soccer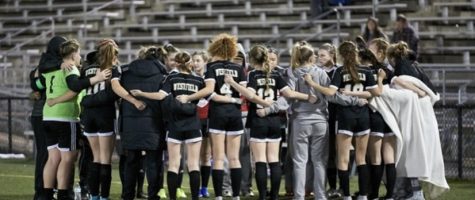 Soccer athletes and coaches say they are using the pandemic as motivation to keep working hard and aiming for their goals, even if it's not the way they would like. Learning lessons like this one,they say, is very important for athletes to be successful. While soccer season is months away, many players have been practicing with their club teams. 
      "I learned that training off the field is just as important as training on the field," explained Caroline Shephard, 12.
      While teams continue to train and condition for this upcoming sports year, excitement is building for athletes and coaches. Even with these circumstances of lingering uncertainty, athletes and coaches are ready to take on what the future holds because one thing they have learned during this pandemic is that nothing in life is guaranteed.
View Comments (1)