COMMEMORATING BLACK PANTHER STAR CHADWICK BOSEMAN
      The traffic light turns red. As the cars come to a halt,  Klaw barely escapes, giving T'challa seconds to catch up.
      "We aren't going to make it!" Shuri shouts.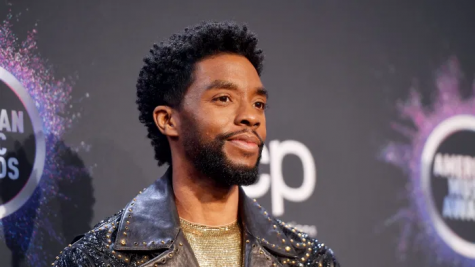 In that moment, T'challa reaches for the ground, his piercing nails causing the sound of a chalkboard to radiate and orange sparks to disperse. The car nearly flips over, making a sharp turn.
      This exhilarating car chasing scene is from the first superhero movie nominated for an Oscar, Black Panther, starring late African American actor Chadwick Boseman who plays T'challa. 
      This film starring actors Michael B Jordan, Letitia Wright, and Lupita Nyong'o disrupts Hollywood's tendency to exclude black actors from superhero films. In this feature, it renders a luxurious, regal black identity.  It is for this reason many celebrated this monumental occasion of a majority black cast.  
      "Black Panther offers the intersection of black role models and a celebration of black (African) culture," asserted Deborah Van Trees, English teacher.
      The film was able to accumulate 1.3 billion dollars as a result of the monumental impact it had on the black community. The motion picture takes place in the African nation of Wakanda, a monarchical society known for its technological innovations. After the death of T'challa's father, T'challa returns home to assume the throne. During this period, T'challa faces communal adversities due to an enemy attempting to steal the throne. This issue tests loyalties and commitments.
      In the film's development, the use of an American accent was proposed until Boseman commended the use of African dialect. This proposal was approved and introduced a new perspective of Africa that disregarded colonial sentiment. The use of an English accent would allude to imperialist ideologies, which Boseman refused to promote.
      "He was able to portray an African king in a powerful way that is not just submissive that most Western media likes to do," Halleluya Kaleb, 11.
      Although Boseman's prominent role as Black Panther tremendously impacted his career, his first hit movie 42 starred him as major league baseball player Jackie Robinson.
      "As an excellent actor and role model, Boseman disrupts the stereotypes that surround and suppress our young African-American students," opined Van Trees.
      42 reveals Robinson's story and struggle of overcoming racial barriers as the first modern black major league baseball player. Boseman's contributions to this film reveal the reality of emotional traumas and racism African Americans faced during the Civil Rights movement, especially those in the sports industry. 42 emphasizes the crucial role of self acceptance when others doubt one's abilities.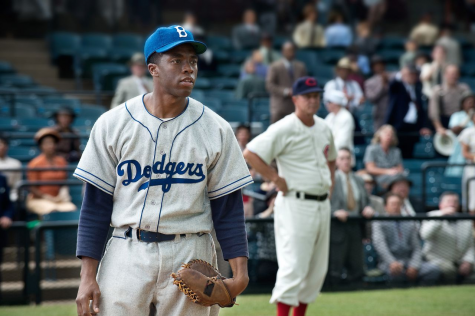 "His transcendent performance in '42' will stand the test of time and serve as a powerful vehicle to tell Jackie's story to audiences for generations to come," Major League Baseball tweeted after Boseman's death.
      During Boseman's career, he repeatedly worked on advocacy films including Marshall.
      This feature is based on former Supreme Court Justice Thurgood Marshall. The movie depicts the story of Marshall and the racial atrocities an African American faced in a racially divided United States. This included labeling of racial slurs, false accusations of sexual assault, and physical violence. Boseman's embodiment of Marshall's punctual yet witty character reveals Marshall's expertise in understanding the language of law.
      Boseman's part in the film industry has not only shaped black representation in Hollywood, but also in the public education system.
      "I actually have a really great lesson about imperialism based on Black Panther. It really helps illustrate a lot of the western scramble for Africa and its resources," stated Annie Duncan, history teacher.
      Van Trees concurred to the idea that actors like Boseman and his works should be implemented in American literature, "A thoughtful English curriculum is strategic in its offerings; presenting powerful role models for an audience that rarely sees itself outside of the more common stereotypes (drug kingpin, thug, etc)."
      Boseman's flexibility, proved by his performances in various kinds of movies, not only required dramatic talent, but also resilience. Indeed, he was secretly battling cancer during his career.
      In 2016, Boseman was diagnosed with stage 3 colon cancer. Although he battled against a strenuous disease, it did not suppress Boseman from changing the racial dynamic in the film industry and influencing society such as the younger generation . 
      During films like Black Panther and Marshall, Boseman's priority was creating impactful movies that establish community and identity. 
      "I've learned [from Boseman] to pursue what I want to pursue, and also try to uplift my own community while doing so… he really exemplifies that through his work as an actor," reflected Kaleb.
      His commitment to such works was admired by his colleagues who stated he was private about his illness and never exploited his health. While battling cancer, Boseman visited young cancer patients in children's hospitals. His philanthropic deed has had a positive influence on sick children because he prioritized the happiness and health of others. Boseman donated toys and words of encouragement at the St Jude's Hospital.
      Furthermore, Boseman's philanthropic deeds were extended during the COVID-19 Pandemic. Due to the lack of Personal Protection Equipment (PPE) in black and low income hospitals, Boseman donated 4.2 millions dollars to cover those expenses. His efforts were in response to many in the Black community, as deaths among Blacks have been 2.1 times higher than other racial groups during the pandemic.
      Boseman's transformative influence in society will forever be commemorated and cherished. He was a hero gone too soon.
Leave a Comment