ATHLETE OF THE ISSUE: KYLA MITCHELL
November 2, 2020
      As the volleyball sails across the court and approaches the net, Kyla Mitchell, 12, waits patiently. Before the ball goes over, she jumps and spikes the volleyball away in the left backcourt for a kill.
      Mitchell's tall and powerful frame fits seamlessly with the rest of her squad, but unlike most of her teammates, she started playing volleyball the summer going into her freshman year. Nonetheless, Mitchell has risen to become one of the most impactful players of the varsity volleyball team. 
      Every athlete remembers the moment they decided to play their sport. For Mitchell, this moment came unexpectedly on a train and prompted by a complete stranger.
      In the winter of her eighth-grade year, she headed to the Women's March in Washington D.C. with her mother. At the time, she was not involved in any sports but intended to play one in high school. On the way back home, they struck up a conversation with a fellow passenger who asked if Mitchell played a sport and suggested she try volleyball. That summer, Mitchell devoted her days to training for the approaching season.
      "On the train ride back home for the march, the man said I should really try volleyball. He thought I'd be good at it and I took his advice. If it was not for him, I would not be here where I am today," recalled Mitchell.
      As a player at Westfield, her position is middle blocker and hitter. Mitchell started out on the freshman team her first year and has been on varsity for the subsequent seasons. Mitchell's maturity, positivity, and willingness to learn is admired by her coaches and teammates alike and has been credited to her vast improvement. 
      "Kyla is observant and a quick learner. I will always be in awe of how good she got in just a few years. She is someone I have always admires on and off the court. You will never see someone as good as her and be as humble as she is," said Samhitha Chadive, 12.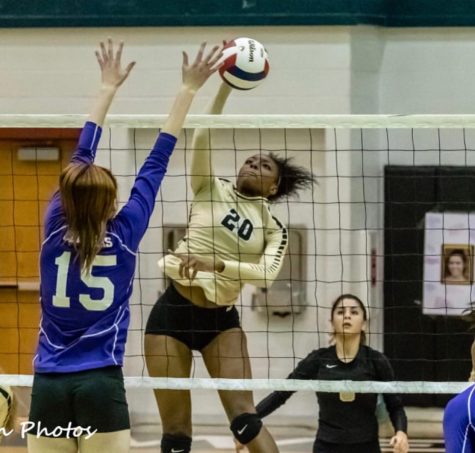 She was on last season's District Champion team where she earned second-team all-district honors; she was also named most improved player freshman and sophomore year.
      "Since day one, Kyla's maturity has set her apart from her peers. Her maturity and willingness to learn and craft her skills helped her leap from the freshmen to varsity. From Kyla's sophomore to junior year on varsity, she almost tripled her kill percentage and doubled in blocks. When she comes to practice, she is always focused on getting better and helping make the team. Kyla brings the kind of leadership that is more action than words. She knows her role on the team each season and works tremendously hard to meet those expectations. As a coach, you hope to have a student-athlete like Kyla," remarked Lauren Jones, Assistant Varsity Volleyball Coach.
      Mitchell will have to wait until spring to compete on the court, but she is gearing up for the season by conditioning and bonding with the team.
      "My main goal is to just finish my high school career out strong. I want to just have fun, play, and win. Overall as a team, the goal is to expand on our success from the previous season," explained Mitchell.
      After this season, Mitchell is heading to college with plans to major in international studies. She wants to become an international human rights attorney. Mitchell is deciding about playing volleyball collegiately and is currently being recruited by programs. As she enters her final season, Mitchell reflects on the impact the team and volleyball have had on her.
      "Being on the team for the past three years was the best decision I made. My team has helped me during hard times, given me some of my closest friends, and helped create so many memories and opportunities. Volleyball has taught me to be a stronger individual both mentally and physically. Also the value of team-oriented and work better cohesively.  This journey has been a rollercoaster of emotions, but it is an amazing experience I am extremely grateful to have been apart of," stated Mitchell.