RETIRING ASSISTANT DSA: JAMIE SHEPHERD
      Whether it is coaching football and basketball,  hanging track record boards, repainting the lines on the football field, mowing the grass, or setting up for a game, Jamie Shepherd, Assistant Director of Student Activities (ADSA) truly does it all. 
      As the ASDA Mr. Shepherd is known to always go above and beyond for Westfield. He is constantly busy helping someone or fixing something. His colleagues and students praise his selflessness and humble character.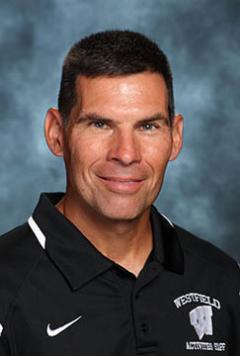 After 34 years in Fairfax County Public Schools, Mr. Shepherd is choosing to step back from his position and retire. 
      "He is always willing to help with anything and everything. I can always go to him for whatever I need. Whoever replaces him will have tough shoes to fill," remarked Sharlean Grinups, Physical Education Teacher.
      Mr. Shepherd grew up with his parents, older sister, and younger brother in Annadale, Virginia. He went to Canterbury Woods Elementary School, Lake Braddock Secondary School, and graduated from Virginia Tech with a bachelor of science degree in Biology, and from George Mason with a Master's in Education.
      Before obtaining his teacher certification, Mr. Shepherd worked in school security and as an assistant librarian. Prior to coming to Westfield, he worked at Frost Middle School. There he met his future wife, Kim Shepherd, Chemistry Teacher. The two met together again as they helped open Westfield in 2000. They have been married for six years and have a daughter, Bethany.
      "My wife is a very thoughtful and caring person.  I feel lucky to have her by my side as my wife and best friend," said Mr. Shepherd.
      When Mr. Shepherd first started working at Westfield he was initially a Biology teacher and then taught Geosystems before he took the offered ADSA position four years ago. There he works alongside Terri Towle, Head Director of Student Activities, and Tina Tagliavia, Administrative Assistant. 
      "Mr. Shepherd never boasts or wants credit for what he does. Somethings will go unknown that he does because he just does everything. There is just no one, no one like him," stated Tagliavia.
      Shepherd's impact on Westfield trickles down to students as the freshman football and junior varsity basketball coach. Having played numerous sports growing up, he credits them for shaping the person he is. Shepherd started out coaching basketball first. He enjoyed the small, intimate team which allowed more time to get to known players. His call to coaching freshman football came from former varsity head coach, Coach Verbanic, as a favor that lasted 17 years.
      Shepherd reflects on all the roles and positions from head coach to ASDA as the highlights of his career. Although he has been touched by the Westfield community, it is time for him to stop going to school after 50 years. Once retired, the Shepherds plan to help volunteer, take care of family, and travel the world.
      We asked what he will miss the most about being ASDA Shepherd responded, " I will miss being a part of the Student Activities Team.  Mrs. Towle, Mrs. Tagliavia, and Coach Simmons are awesome to work with.  They are dedicated to doing a great job and are quality people.  I will miss the hard work and pride we all have for making Westfield Athletics the best it can be.  I won't be at school each day, but I will be paying attention to see what successes and accomplishments Westfield attains next."
      As his last day as ASDA comes, he will not be sad but honored to have been a part of something bigger than himself and to have given back others at Westfield.
      "The greatest realization I have made in my life is those things that are most valuable and most rewarding are the things you do to help others," said Mr. Shepherd.
Leave a Comment