ATHLETE OF THE ISSUE: VICTORIA D'ERCOLE
February 18, 2020
      Late in the fourth quarter, Westfield is down two against Centreville High School, playing in a do-or-die game in the first round of Concorde District play. Bella Bruce, 9, takes the ball down the court on a fast break, eventually making a skip pass to Victoria D'ercole, 12, who drills a three pointer to give the Bulldogs the lead. D'ercole's three propelled the Bulldogs to rebuild their lead in the game, beating the Wildcats 47-43, moving on in the postseason.
      D'ercole began playing basketball when she was in the fourth grade. Her brothers, who played the sport, inspired her to try it, and one of them, Jake, coached her first ever team. Since then, her passion for the sport has only grown. 
      "I like how basketball is truly a team sport," she articulated. "Everyone on the court has to work together in order to succeed."
      D'ercole is in her final season playing Girls' Basketball at Westfield. Her freshman year, she was on the JV team, helping the team earn a stunning 15-1 record. Her sophomore year, she was promoted to Varsity; that year she accompanied the team to the first seed in the district, as well as a regional and state run. 
      Last season, as a junior, D'ercole began to take on a leadership role, being one of two returning Varsity players on one of the youngest varsity teams in the program's history. That same year, during the Bulldog Bash tournament, she made the All-Tournament Team. Additionally, D'ercole was given an Honorable Mention in the Concorde District, as well as awarded the Bulldog Award for her loyalty and dedication to the program.
      This season, D'ercole has fully embodied her position as a leader on the team, being the sole senior.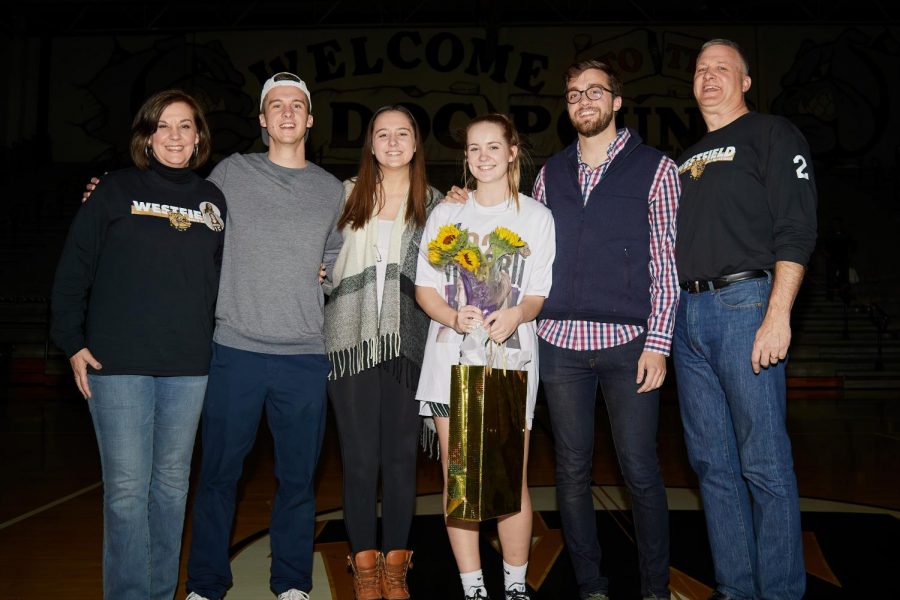 "Being the oldest, everyone naturally looks up to me," she explained. "There's definitely an added pressure because I feel like my energy and attitude set the tone for the whole team, so I always have to be on my 'A-game.'"
      After coming off of a rocky season her junior year, D'ercole felt as though the team had something to prove this season. As the only senior and leader of the team, she has taken it upon herself to bring the team to a new level and show their worth. She is known for hitting timely three pointers, as well as for her ability to drive the ball and get to the free throw line. She often puts up significant numbers, whether it be in points, rebounds, or assists. Consequently, she was given an Honorable Mention in the Concorde District for this season as well.
      However, her contribution to the team goes much further than the stat sheet. D'ercole is known for her ability to hype up her team, as well as give them instruction and blunt advice when needed. Before games, during halftime, and during post-game reflections, she is always the first one out of her seat, standing and talking to the rest of her teammates. When she is not giving them moral support and getting them mentally ready to perform, D'ercole is critical and constructive, letting the team know what changes need to be made in order for them to be more successful as a whole. In fact, Noel Klippenstein, Head Coach, often remarks during and after games that D'ercole has already covered all of the coaching points before the coaches have had a chance to address the team.
      When asked about her motivation, she replied, "My teammates. I see how hard they work everyday and I want to match their energy, if not, top it."
      D'ercole also pushes herself academically, earning good grades and maintaining a high GPA. In addition to this, she manages the Varsity Baseball team, is a part of SGA and Bulldog Buddies, and works two jobs. Although it is difficult to manage this schedule, D'ercole pushes through and stays on top of her workload.
      "It is very difficult to find time for everything, but being a student-athlete, I make sure to prioritize my schoolwork, then make time for the rest," she elaborated.
      As an individual, D'ercole's friends and teammates describe her as thoughtful, determined, uplifting, positive, caring, energetic, genuine, and perseverant, among other things.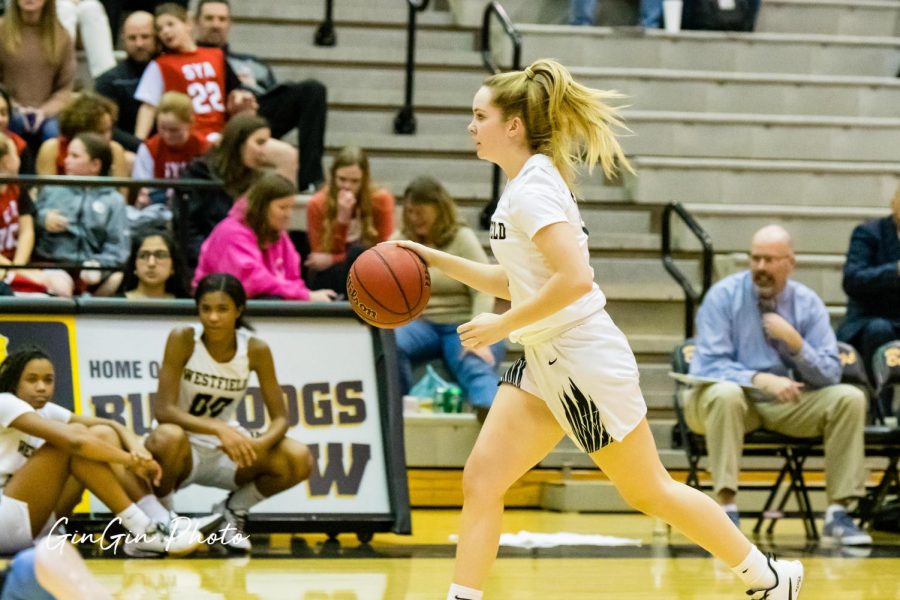 Stephanie Ghyzel, 11, expressed, "Victoria is such a caring person and always puts others first. She is always someone you can go to if you need advice, help, or anything really."
      Additionally, D'ercole is extremely family-oriented: "My siblings aren't just my family, they're my best friends, and I choose to hang out with them as much as I can."
      D'ercole's work ethic and kindhearted personality translate into her basketball abilities.
      "Victoria has had a great impact on my career as a player simply with her cheerful attitude, encouraging words, and outstanding leadership," marveled Aba Quainoo, 10, one of D'ercole's teammates. "She gives her all no matter how much is asked of her. Victoria is the kind of leader I aspire to be."
      Leading her team to victories and hitting big shots, D'ercole hopes to end her last season on a high note: "Ever since my freshman year, my goal has been to leave the program better than I found it. After being a part of this team for so long, however, I truly do think we can make a run in the postseason and upset some pretty good teams. Last year, I would talk jokingly about 'shocking the nation,' but with the talent we have this year, I definitely see us surprising the district and making one final run for a district banner."