BEYONCÉ KNOWLES CARTER—THE FIRST LADY OF MUSIC
February 18, 2020
      The crowd cried out in anticipation as she stood tall with a microphone on one hand and the weight of the music industry on the other. The hits on the snare drums that echoed through the stage acted as a countdown; the booming sound of the snare built into a resounding beat. Without missing a step, she jumped into that beat, at which her fans erupted into a roar of cheer. 
      Beyoncé Knowles Carter was born on September 4th, 1981, in Houston, Texas. As a young girl, Beyoncé was involved in talent shows and other events in which she showed outstanding vocal skills and dancing abilities. However, Beyoncé's career in the music industry began when she joined forces with her cousin Kelly Rowland and friend Michelle Williams to create Destiny's Child, one of the most talented R&B girl groups of all time. Together, this all female group of singers spawned the hits "Say My Name" and "Bills, Bills, and Bills."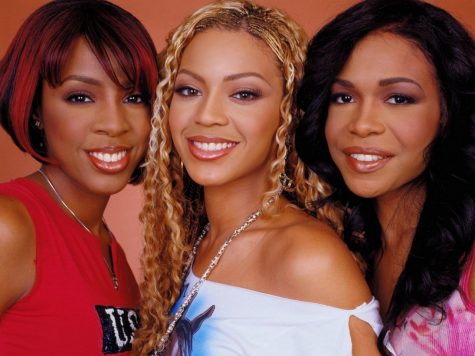 On July 24th, 2003, Beyoncé released her solo debut album, Dangerously in Love, which peaked at number one on the Billboard Hot 200 Chart. Not only that, her singles "Crazy in Love" ft. Jay Z and "Baby Boy" ft. Sean Paul peaked at number one on the Billboard Hot 100 Chart. "Crazy in Love" has had one of the greatest impacts on pop culture, especially in the United States. In fact, Video Hits One declared "Crazy in Love" to be the greatest song of the 2000s decade and Rolling Stone, in 2018, named it the greatest song of the 21st century so far.
      Following her debut album, more three years later, Beyoncé released her second studio album, B'Day. Like her previous album, this body of work also peaked at number one on the Hot 200 Chart along with the hit song "Irreplaceable," which topped the Hot 100 Chart. 
      Beyoncé is best known for her hit "Single Ladies," from her hit album I Am… Sasha Fierce that was released in 2008. Both the single and the album topped their respective charts. In addition, like her debut album, her third studio album also had two more singles that are incredibly popular, "If I were a Boy" and "Halo." 
      Queen Bey's 4 came after, in 2011, and with that came one of the best female anthems of all time, "Run the World (Girls)," and another classic, "Love On Top." Though the singles did not top the Hot 100 Chart, the album became Beyoncé's fourth consecutive number one solo album. 
      Her next album, Beyoncé, revolutionized the music industry. The album was a surprise visual album; in other words, no one had anticipated the release of it and every song on the album has a music video. The release of the self-titled album also changed the standard release day of music from Monday to Friday. 
      Her most recent solo studio album is Lemonade, a visual album that expresses not only Beyoncé's feelings about her husband's infidelity, but in a grander sense, it portrays the experience of black women in America. Specifically, it recognizes the struggles of black women to be seen, to be heard, and to be respected. The album, to no one's surprise, caused a great deal of controversy, especially the music video of the lead single "Formation." In it, Beyoncé represented southern blackness, police brutality, the disproportionate effect of Hurricane Katrina on the city's black residents, and many other struggles that black people face.
      Beyoncé Knowles Carter is the greatest artist of all time because she has incomparable vocal abilities, has incredible choreography in all of her performances, has an outstanding discography, and uses her music to agnize and support those who are repressed due to their race and/or gender.  
      In terms of vocals, Beyoncé has a vocal range of about 3 octaves. Though her range is outrageous, it is her techniques that defines her superiority. Firstly, Beyoncé has a controlled and natural vibrato. In addition, her insane riffs and runs show how she creatively employs her vocal skills. Lastly, Beyoncé switches it up. Even on the same album, Beyoncé expresses a variety of emotions by changing her tone and interpretation. 
      It is known that her work ethic is remarkable, however, it is not common knowledge that Beyoncé expects everyone around her to be as motivated as herself. Beyoncé's performances are evidence of this claim. Just with her two Super Bowl Halftime Shows from 2013 and 2016, Beyoncé has set the bar too high. Not surprisingly, though, Queen Bey went ahead and surpassed herself, as the first black woman to headline, in the Coachella Festival in 2018. The performance was a tribute to historically black colleges and universities, specifically black Greek life, as Beyoncé recruited a marching band and had a giant bleacher in the center of the stage. The performance was so iconic that it got its own name, "Beychella." 
      With a song for every occasion, Beyoncé provides her fans with a collection of songs and albums that are impeccable. It is not surprising that all of her songs have been produced with immeasurable effort. She has even said multiple times that in everything she creates, she puts one hundred percent into it. 
      Beyoncé's compassion and genuine concern for herself and other women is inspirational. She has celebrated, uplifted, and represented women through her art like no artist has ever before. Specifically, though, Beyoncé has used her music to represent herself and other black women. It is why Lemonade is arguably her best album and the best album of all time; it has given black women a voice. It has forced the world to pay attention and listen, and rightfully so, to black women. In other words, Beyoncé's Lemonade is a manifesto for black feminism.