NEW CAREER CONNECT PROGRAM MOLDS WESTFIELD'S FUTURE
      Westfield's diversity is clearly expressed through the myriad of different careers its students aspire to pursue. From future business leaders to Broadway directors, it seems that Westfield contains all the future leaders for America. Consequently, in order to convey a clearer path for these students to reach their goals, Ms. Laura Cudahy, Career Center Specialist, has successfully constructed a new program: Career Connect.
      This program, according to Cudahy, is "designed to provide additional career information to students, mainly juniors and seniors, based on the career interest profiler. [Cudahy] picked the top nine career clusters that students selected and planned events around those."
      These events, mainly in the form of speaker panels, allow students to connect directly with experts in several different fields. Usually held in the Lecture Hall during Bulldog Block, these professionals give presentations about their jobs, education, and lifestyle to students interested in pursuing the same path. The speakers are chosen through observing the Student Career Interest Profiler, a survey given to sophomores, to view the top career clusters that Westfield students are interested in.
      Cudahy explains, "The career clusters I'm focusing on are Arts, Audio Visual Technology, and Communication; Information Technology; Law, Public Safety, Corrections, Security; STEM; Education and Training; Health Science; and Hospitality and Tourism." In 2019, these were the top clusters chosen by students, except Hospitality and Tourism, which Cudahy included "based on research that shows the DC, Maryland, and Virginia region will see a lot of growth in this area."
      This is the first year Westfield has chosen to conduct such a program. In fact, to acquire efficient funding, Cudahy had applied for a Work Based Learning Grant from the FCPS Foundation, which enabled her to acquire the speakers, panels, field trips, and marketing materials.
      The presenters are contacted through organizations that work with Westfield, Chantilly Academy, the NOVA workforce division, former students, alumni, and of course, parents. Based on the presenter and their profession, specific classes at Westfield are invited to attend. For example, Cudadhy reached out to ,Ms. Schaffler, Marketing Teacher, while planning the first Career Connect event, which focused on a Sports Marketing specialist. Additionally, following each presentation, students receive a packet containing plenty of information on the career cluster discussed. According to Ms. Cudahy, putting these packets together cover the majority of the funding for the entire program.
      The first Career Connect event, held on October 31st, featured Jeffrey Alston, Senior Manager of Athletic Marketing at Fanatics. Alston began his presentation with a short video about his typical day working, then proceeded to briefly introduce himself, including his upbringing and pre-college education. Initially, he had planned on coaching football, but faded from that idea once the huge amount of moving associated with it occurred to him. In fact, Alston had coached college football for several years before switching to Fanatics. He used this example to teach Westfield students that is normal, and okay, to be unsure about their futures. He elaborated with the example of the CEO of Fanatics, who had not even graduated college before becoming a millionaire.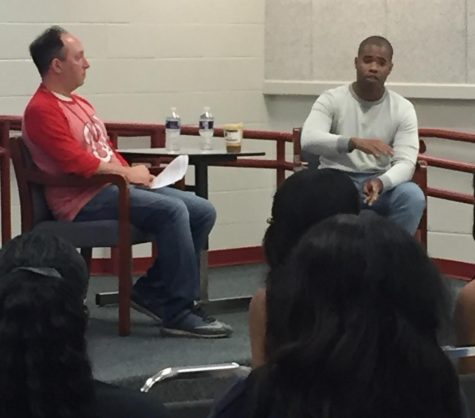 According to Alston, "It is important to choose a school you love, where you fit, somewhere you can do something you'll be proud of. But remember, the decisions you make in college probably won't affect the rest of your life."
      Not to mention the diverse audience turnout, this successful pilot event massively aided students in understanding Sports Marketing and whether it aligns with their own interests.
      Leena Smoot, 10, who attended the lecture, explains, "Sports marketing is a huge industry that we see all the time but know nothing about – so I went to learn."
      Additionally, Trenton Reimonenq, 11, added, "It actually gave me lots of ideas of fields that I may like to pursue in the future."
      Following the first event, the Career Connect Program has also hosted a speaking panel focused on Commercial Real Estate during November. It featured six experts from different areas in the industry, and similar to the first event – also attracted a variety of students and experienced massive success.
      With 53.8% of students reporting the first event as being very helpful, it is clear that this new program will bring light to a majority of career fields that students are attracted to. Currently, Cudahy plans on continuing to have one event each month, including speaking panels, field trips, and lunches. In fact, she has already planned a December Career Connect Cafe with a nurse , and a field trip to the Dulles Airport in February. She will notify students about upcoming events mainly through emails. Plans will be added as the year goes on, focusing on Tech careers, Engineering and other STEM careers, Education, Art and more.
Leave a Comment