COACH OF THE ISSUE: COACH EWELL
January 5, 2020
      Following all the hardships the team endured to get another opportunity at the State title, Doug Ewell, boys' varsity basketball head coach, recalled the first emotion every coach feels in a championship-winning moment, "relieved and refreshed."
      As the clock winded down and the buzzer sounded, the Varsity team erupted in cheers as they won the 2016 state championship game, 74-56 against Oscar Smith. 
      After a long season starting in November, the hours of conditioning, practicing, bonding, and strategizing from coaches and players finally paid off. This moment was déjà vu for the returning players losing out on the state title to Colonial Forge by only a few seconds the prior season. 
      Since coming to Westfield in 2004, Ewell's journey to becoming a state champion basketball coach sprung from admiration of his high school basketball coach. Growing up, Ewell played baseball, basketball, and football. Eventually, he dropped baseball to focus on the other two sports. At Chantilly High School, he played quarterback on the field and a guard on the court all four years. By his senior year, he had to decide between pursuing basketball or football as a future collegian.
      Ultimately, Ewell committed to Newberry College in South Carolina for football. At the Division Two college, he switched positions from quarterback to wide receiver.  
      "I picked football over basketball because I knew football was my better sport, as much as I love basketball," said Ewell.
      After his sophomore year, however, Ewell stopped playing in order to devote more time to his academics.
      After college, Ewell married his wife of now 21 years. The couple met in middle school and stayed in contact over the years. They have two sons, Clifford and Charlie, who are in ninth and seventh grade, respectively. Clifford is a current freshman at Westfield, where Ewell also teaches physical education and personal fitness. As a father, he has imparted his love for basketball onto his sons.
      "While I've never had him as my coach for a club or team, having a dad who coaches and has knowledge about basketball is helpful," explained Clifford Ewell, 9.
       Ewell's love for motivating youth drove him to pursue teaching and coaching. Even with teenage sons, he claims fatherhood has not changed his coaching style. After 26 years of coaching, he continues to believe in holding his own children and athletes to the same standards.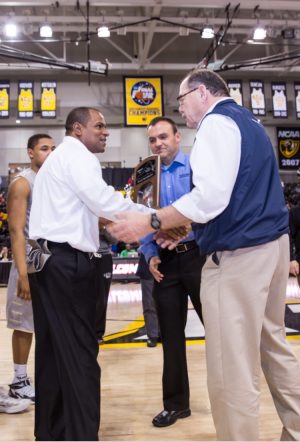 Former varsity player Jalen Pinnix, 12, reflected on his experience with Coach Ewell: "I played with the team for three years here. While I am not playing this year, Coach Ewell has been a good coach who prides on discipline and following his directions because he ultimately wants nothing but the best for his as athletes."
      Teachers and students who know Ewell attest to his humorous, kind-hearted, tough love personality. 
      "Coach Ewell is a blast to work with. He is very knowledgeable about the game and has a great relationship with the players on the team and staff," stated Ephraim Hawkins, math teacher, and assistant boys' varsity basketball coach.
       Former Varsity Player Isaiah Daniel, 12, reflected, "Having coach Ewell as a coach and teacher for weight training has strengthened our relationship. He has become a person over the past years that I can go to if I need someone to talk to."
       Those same qualities created a strong work environment and a close team bond for the winning 2016 team. Leading up to that season, Ewell credits alumni Patrick Lawless ('15), Zach Sheahan ('15), and Jacob Williams ('15), for instilling the core values of an exemplary team player; "relentless effort, positive and negative encouragement, and focused mindset," he says, carried over unto players of subsequent seasons.
      "Most kids nowadays want leadership. Teachers and coaches are there to give those positions to them. The seniors of the 2015 season [Lawless, Sheahan, and Williams] were prime examples of the student leaders we need," stated Ewell.
   Coming into the title-winning season, the team brought greater mental fortitude and determination as they sought redemption after falling short in the finals last season. Every player became increasingly dedicated to each other and the team working endlessly towards their ultimate goal, winning states. 
      Ewell recalled that major team leaders Blake Francis ('16), Hank Johnson ('16), and Tyler Scanlon ('16) emerged from their experience on the 2015 team all helped to keep their teammates focused and accountable. Their commitment to the team resulted not only in team success but also in the improvement within their individual game. The trio went on to play basketball collegiately at the University of Richmond, Bridgewater College, and Belmont University, respectively.
      "Throughout the season the team felt a tremendous amount of pressure as we were favored to win the state championship. The 2016 team truly had a championship or bust mentality, and that is incredibly stressful to endure for an entire year. The week in between losing the regional final and the start of the state playoffs brought out the best in our team. When our team was uncertain whether we could solve the problems that resulted in our loss and win, Coach Ewell assured us that we were prepared to win," recalled Scanlon.
      As he enters his fifteenth year as head coach, Ewell reflects fondly on all his past and current players. While the outcome of seasons is unpredictable, Ewell's goal for each year's team remains the same: develop a cohesive group of players, establish a team bond, work hard, and look forward to competing in the postseason in February and beyond.