SGA HONORS VETERANS, HOSTS OPERATION GRATITUDE AND TEACHER MARCH
      On November 7th, the Student Government Association (SGA) hosted an event that represented  gratitude toward the military service of the faculty here at Westfield. The event was called Operation Gratitude, where SGA, as well as Class Board and BETA Club members helped assemble care packages to send to soldiers serving overseas.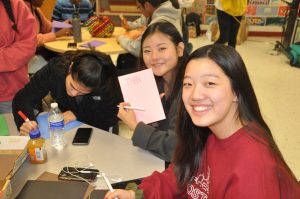 "The care packages contained toothpaste, as well as floss, chapstick, and other small necessities and handmade cards," said Dao Tran, a member of the Student Government Association.
      On November 8th, there was a private breakfast for all veteran faculty at Westfield including food from Dunkin Donuts as well as Anita's. Additionally, gift cards were prepared for the veteran faculty. On November 11th, SGA held another event on November 8th during bulldog block, featuring a mini parade involving the Reserve Officer Training Corp (ROTC), drummers, and band members, as well as veteran teachers and faculty here at Westfield. 
       "I think SGA is doing a consistent job of not only organizing things that affect the school, but also things that extend beyond the school and into the community. Though the impact may not be the greatest, we hope to let our veteran teachers know, and veterans in general, that we appreciate their service and remember their sacrifices," expressed Tran. 
Leave a Comment