ATHLETE OF THE ISSUE: LILY RENDER
December 20, 2020
      Stealing the ball for the opposing team, Lily Render, 12, turns and drives down the soccer field. She makes a swift pass to her teammate, moves into the goal box, and places the return pass in the back of the net. After a quick celebration with her team, she returns to her midfield position waiting to create another scoring opportunity.
      Render started playing soccer from young. Being the youngest of four, she was often taken along to her siblings' sports practices. Inspired by her older sister, Caroline, Render decided to take up soccer as well when she turned five. 
      Render's love of soccer has since grown out of admiration for her older sister into a passion where she is now creating her own path.
      "Soccer has impacted me in various aspects of life, but most importantly it has taught me to be a hard worker, to give my best effort with everything I do, and that not everything is an individual effort. There is value in being apart of a team," remarked Render.
      Starting out on the SYA house team, she moved up to their travel team in third grade. Since eighth grade, Render has played for the BRYC Elite Academy as a center midfielder. In high school, her first season with Westfield was junior year, which was canceled due to the pandemic. 
      "Lily is one of my best friends and I am glad we got to practice together at Westfield while the season lasted. She is an incredibly hard worker and brings so much to the team," said Caroline Shepard, 12.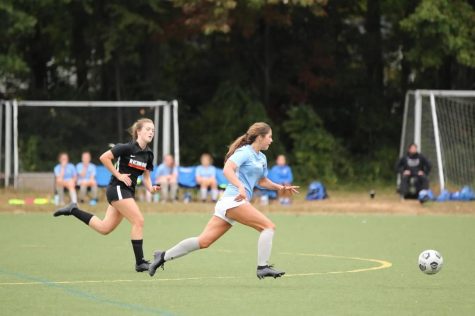 Over the course of her career thus far, Render has won various tournaments and accolades. With her current team, BRYC, they are in the exclusive Elite Clubs National League (ECNL). The league consists of top clubs in the nation that are invited to join. Since Render's club came into ECNL in 2017, they have won back-to-back Mid-Atlantic conference titles. Render was awarded conference player of the year last season for her impactful performances on the field. 
      " Lily has a very good awareness of the field which allows her to make quick and smart decisions," stated Katie Conway, 12. 
      As Render finishes up her final club season, she looks forward to being a collegiate player next year. Render initially began her recruiting process freshman year, but due to changes in collegiate soccer recruitment guidelines coaches could not reach out again until the end of her sophomore year. The halt in recruiting gave Render the opportunity to further develop her skills and reevaluate her options. After recruiting resumed, by the fall of junior year, she had committed to the University of South Carolina. 
      "The University of South Carolina was one of the last schools to express interest in me and it was the last school I visited as well. I did not know much about the school, but after I visited I fell in love. I loved the campus, the academics were perfect for me and they had the major I wanted, and they have had a consistently strong soccer program," explained Render.
      As Render moves on from Westfield, she is eager to build a bond with her college teammates. However, Render will miss playing alongside her teammates especially with her best friends she has grown up with and will cherish those memories as she creates new ones.